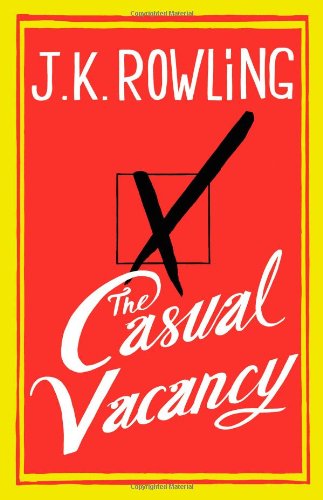 Publisher's Note:
When Barry Fairbrother dies unexpectedly in his early forties, the little town of Pagford is left in shock. Pagford is, seemingly, an English idyll, with a cobbled market square and an ancient abbey, but what lies behind the pretty façade is a town at war. Rich at war with poor, teenagers at war with their parents, wives at war with their husbands, teachers at war with their pupils…. Pagford is not what it first seems. And the empty seat left by Barry on the town's council soon becomes the catalyst for the biggest war the town has yet seen. Who will triumph in an election fraught with passion, duplicity and unexpected revelations? Blackly comic, thought-provoking and constantly surprising, The Casual Vacancy is J.K. Rowling's first novel for adults.
The Casual Vacancy
by J. K. Rowling
Overall Review:
The Casual Vacancy is J.K. Rowling's first book for adults. After seven Harry Potter books full of magic and mystery, at first glance she seems to have turned to the most pedestrian of English topics--the parish council. Chapters begin with extracts from parish council guidelines and the filling of a vacated seat on the council; 'a casual vacancy' is the initial plot-driver.
Her characters are like people you might know--no one is beautiful, and there is certainly no magic. However The Casual Vacancy shows us what a true master of words J.K. Rowling is; it is an astounding novel. The conversations and characters jump from the page and the prose is wonderfully crafted.
The story is set in Pagford, a very ordinary small English town. When a local councilor dies suddenly, his vacant seat on the parish council causes a huge stir in the community. Alliances and battle-lines are drawn and all of the characters become drawn in to the action. This novel is perhaps grittier than it first appears--there is a lot of suffering going on in this one small place but with characters you will truly care about (or love to hate!), this is a must-read.
Content Analysis:
Language/Profanity: 33 religious exclamations; 9 mild obscenities; 57 derogatory names; 50 scatological words; 14 anatomical terms; 90 F-word derivatives.
Violence/Gore: A man has a heart attack; a child dies from an accident; a teenager commits suicide; a teenager suffers a serious but non-life threatening injury; a teenager is raped by an older man; child abuse--physical, mental, and sexual is described.
Sex/Nudity: Characters flirt, kiss and touch; many sexual references; two mentions of pornography; three mature discussions concerning sex; 3 incidences of sexual activity between adults without explicit detail; 2 descriptions of sex with explicit details; brief scenes of sexual abuse, rape, and incest.
Mature Subject Matter:
Child abuse--physical, sexual, and mental, Domestic violence, Rape, Death of a child, Death of an adult, Suicide, Drug addiction, Unwanted pregnancy, Marital infidelity, Homophobic views, Racist views, Incest, Prostitution, Mental illness, Dealing in stolen goods.
Alcohol / Drug Use:
Characters drink wine and spirits frequently in the book. Two teenagers smoke marijuana.
Reviewed By Ailsa