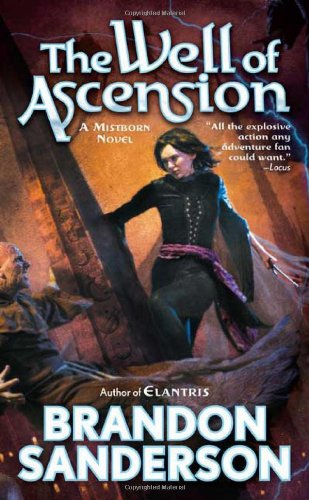 Publisher's Note:
Evil has been defeated. The war has just begun.

They did the impossible, deposing the godlike being whose brutal rule had lasted a thousand years. Now Vin, the street urchin who has grown into the most powerful Mistborn in the land, and Elend Venture, the idealistic young nobleman who loves her, must build a healthy new society in the ashes of an empire.

They have barely begun when three separate armies attack. As the siege tightens, an ancient legend seems to offer a glimmer of hope. But even if it really exists, no one knows where to find the Well of Ascension or what manner of power it bestows.

It may just be that killing the Lord Ruler was the easy part. Surviving the aftermath of his fall is going to be the real challenge.
The Well of Ascension
by Brandon Sanderson
Overall Review:
The Well of Ascension has a peculiar quality to it: you cannot stop reading it. Literally. It was the most frustrating phenomenon. I did nothing but read this book for four days, and I have no regrets. The plot is exciting and clever, and lives up to the first Mistborn novel without any problems. The reader will enjoy watching the characters grow and change in reaction to the stress they are under, as well as the circumstances left behind after the conclusion of Mistborn. In addition, the impending sense of doom combined with one of the best plot twists in the fantasy genre keep the reader enslaved for approximatly 796 pages out of 796 pages. For anybody who loves true fantasy, The Well of Ascension is a must read!
Content Analysis:
Profanity/Language: 27 mild obscenities; 3 deragatory names.
Violence/Gore: Many battle scenes involving fists, weapons, coins, and anything else at hand resulting in violent death and injury with fairly graphic description of blood; one instance of a character being cut in half (vertically) but without extensive detail; a few scenes could be considered scary; characters report violence or death; characters threaten each other.
Sex/Nudity: Characters kiss, hold hands; 3 instances of nudity, non sexual. Two characters wake up in bed nude after being married, sex is implied. There are references to noble men raping slaves, but no detail. One character has several mistresses. A character threatens lewd behavior upon another.
Mature Subject Matter:
Madness, responsibility, politics.
Alcohol / Drug Use:
Characters drink wine.
Reviewed By Jackson