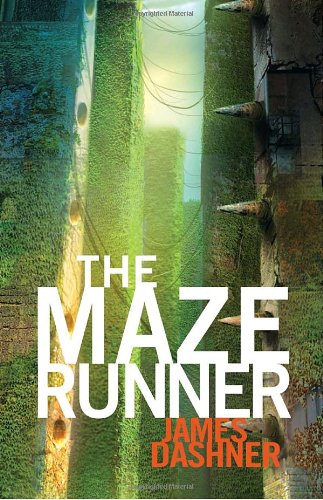 Publisher's Note:
When Thomas wakes up in the lift, the only thing he can remember is his first name. His memory is blank. But he's not alone. When the lift's doors open, Thomas finds himself surrounded by kids who welcome him to the Glade—a large, open expanse surrounded by stone walls.

Just like Thomas, the Gladers don't know why or how they got to the Glade. All they know is that every morning the stone doors to the maze that surrounds them have opened. Every night they've closed tight. And every 30 days a new boy has been delivered in the lift.

Thomas was expected. But the next day, a girl is sent up—the first girl to ever arrive in the Glade. And more surprising yet is the message she delivers.

Thomas might be more important than he could ever guess. If only he could unlock the dark secrets buried within his mind.
The Maze Runner
by James Dashner
Overall Review:
The Maze Runner by James Dashner is a dystopian novel with many elements of sci-fi, some of which are closely bordering fantasy. It seems that Dashner stretches the futuristic technology to create the fantastical monsters he wants to include in his plot. However, everything doesn't have to be believable to make The Maze Runner a great story. I really enjoyed this book, despite the large amount of violence. The story would be much less intense and suspenseful without the threat of danger and death looming. I would recommend this book for at least 14 years and older because of the violence which increases in description and intensity throughout the book.
With this book, I feel that Dashner took a very basic dystopian theme - which you don't fully get to understand until the sequel - and made it into a much more complex and unique novel. The plot line is gripping and Dashner keeps you on the edge of your seat with plenty of action, cliff-hangers, and major twists in the mystery. This is the first book in the Maze Runner trilogy and it ends with a scene that both leaves the story as a stand-alone, but also leaves you begging for the rest of the series. I highly recommend this book.
Content Analysis:
Language/Profanity: None
Although there is technically no profanity, there is extensive use of made up slang.
Violence/Gore: Threats to harm or kill others; reported stories and references to injuries and deaths of boys; non-life-threatening injuries caused by outside forces and/or other boys; detailed and non-detailed scenes of violent death - teens killing teens, teens killing themselves, adults killing teens directly and indirectly through other means.
Sex/Nudity: None
Mature Subject Matter:
Death of teens and adults, teen suicide.
Alcohol / Drug Use:
Medical shots are given to teens after near death experiences.
Reviewed By Annelise