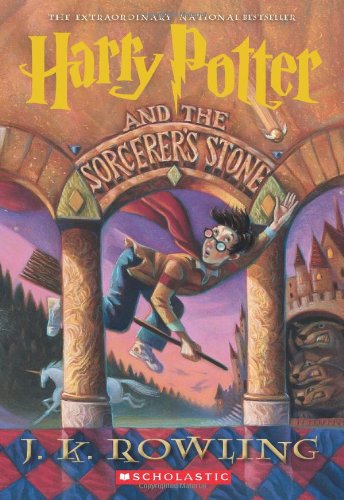 Publisher's Note:
Harry Potter has no idea how famous he is. That's because he's being raised by his miserable aunt and uncle who are terrified Harry will learn that he's really a wizard, just as his parents were. But everything changes when Harry is summoned to attend an infamous school for wizards, and he begins to discover some clues about his illustrious birthright. From the surprising way he is greeted by a lovable giant, to the unique curriculum and colorful faculty at his unusual school, Harry finds himself drawn deep inside a mystical world he never knew existed and closer to his own noble destiny.
Harry Potter and the Sorcerer's Stone
by J. K. Rowling
Overall Review:
Harry Potter and the Sorcerer's Stone is the first book in the hugely popular Harry Potter series. In this book, J. K. Rowling creates a richly detailed, thriving magical world. There are no holes in this fantasy, and even the most unbelievable things are explained. At the same time, she keeps just enough similarities to make it easy to relate to a mystical, magical world. In writing fantasy, it is so easy to expect readers to already understand all the intricacies of the world inside your head. J. K. Rowling is very careful at making all of the wizarding world understandable for readers.
As the first book in the series, Harry Potter and the Sorcerer's Stone is much less intense than some of the following books in the series. There is some violence and dark magic, including some frightening magical fight scenes that include dangerous wizards and magical creatures. However their purpose is mostly to help illustrate the fight between good and evil - to ensure that the readers connect with and are cheering for Harry. This book can be read alone, but I almost guarantee you'll want to come back with Harry for the rest of his years at Hogwarts.
I would recommend this book to 11 year olds and up. In the book, Harry is 11 and it will be easier for 11+ children to relate and understand. Younger children may be frightened by some intense and/or magical scenes, mischief, violence, the single-mindedness of evil, and may not understand some mature themes, such as death of a parent. I highly recommend this book, especially to those who love friendship, adventure, and magic.
Content Analysis:
Language/Profanity: None
Violence/Gore:
Mischief and fights resulting in non-life-threatening injuries such as black eyes, bleeding, and being knocked unconscious; reports of being punched and/or harmed; meanness and pranks; implied mental and physical abuse; implied/threatened violent death; dragon bites; dead animals; drinking blood of a mythical creature; adults try to kill boy repeatedly; frightening magical properties such as inhabiting other bodies and drinking liquids to bring life back; intense magical and physical fight scenes with high climactic emotions (ex. remembering deaths, burning desire for revenge, etc.)
Sex/Nudity: None
Mature Subject Matter:
Death of parents, death.
Alcohol / Drug Use:
Adults drink and stories of people drinking in bars.
Reviewed By Annelise