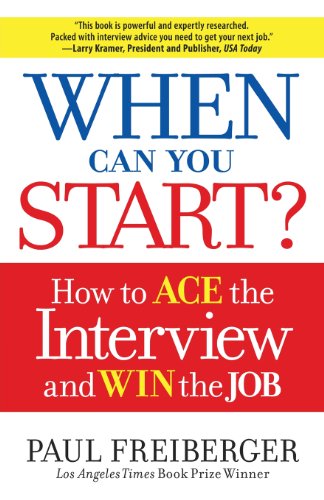 Publisher's Note:
In a tough job market, only a select few succeed at the interview process. What sets them apart? As President of Shimmering Resumes, Paul Freiberger helps job seekers rise above the competition and get hired. Now he s giving you the tools to ace the interview and win the job. You will learn how to: be ready for The Only Question You Must Be Able to Answer (not) tell the interviewer about your weaknesses answer any trick question or oddball question ask the right questions be confident in any interview situation avoid interview mistakes negotiate the salary you deserve Use the practical, effective, and proven techniques in this book to convert We ll be in touch to those four words everyone wants to hear: When can you start?
This book was sent to Compass Book Ratings for review by Cadence Group
When Can You Start?
by Paul Freiberger
Overall Review:
When Can You Start? by Paul Freiberger is a wealth of information for anyone in the job market. It covers everything imaginable that has to do with finding, interviewing, and landing the perfect job. Unlike some 'how to' books, this one is well-written and flows smoothly, explaining things clearly without going overboard and losing the reader's interest.
I enjoyed Freiberger's whole attitude towards 'winning' a job. He immediately took me out of the mindset that a person looking for work is desperate and that the whole interviewing process is nothing but a lot of stressful hoops to jump through in hopes that someone will find you employable. This book reminds readers that looking for a job can be about seeking the best fit for you. It then delivers expert advice as to how to help the interviewer recognize you for the perfect fit that you are. It even has tips on how to answer some of those tough interview questions like: "Tell me about your weakness."
I highly recommend this book for people young and old that would like to have a little extra edge while seeking employment.
Content Analysis:
Profanity/Language: None
Violence/Gore: None
Sex/Nudity: None
Mature Subject Matter:
None
Alcohol / Drug Use:
None
Reviewed By Ambra