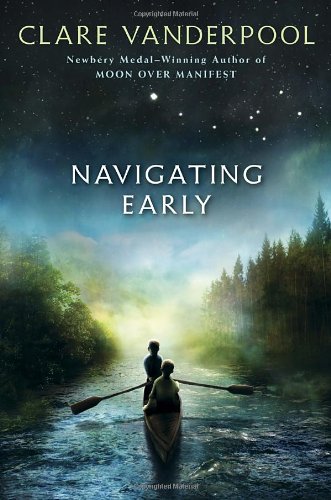 Publisher's Note:
New York Times Best Seller Navigating Early by Clare Vanderpool, Newbery Medalist for Moon Over Manifest, is an odyssey-like adventure of two boys' incredible quest on the Appalachian Trail where they deal with pirates, buried secrets, and extraordinary encounters.

At the end of World War II, Jack Baker, a landlocked Kansas boy, is suddenly uprooted after his mother's death and placed in a boy's boarding school in Maine. There, Jack encounters Early Auden, the strangest of boys, who reads the number pi as a story and collects clippings about the sightings of a great black bear in the nearby mountains. Newcomer Jack feels lost yet can't help being drawn to Early, who won't believe what everyone accepts to be the truth about the Great Appalachian Bear, Timber Rattlesnakes, and the legendary school hero known as The Fish, who never returned from the war. When the boys find themselves unexpectedly alone at school, they embark on a quest on the Appalachian Trail in search of the great black bear. But what they are searching for is sometimes different from what they find. They will meet truly strange characters, each of whom figures into the pi story Early weaves as they travel, while discovering things they never realized about themselves and others in their lives.
Navigating Early
by Clare Vanderpool
Overall Review:
Coming off of a Newbery Award for Moon Over Manifest, Navigating Early by Clare Vanderpool almost immediately hit the New York Times Best Seller list. The charm in Navigating Early is in the unlikely friendship between Jack and Early. Middle-grade readers, especially boys, will be drawn by the adventure the boys have on the river and in the woods. Stuffed with interesting characters, Jack and Early tumble from one encounter to the next on their quest.
However, the novel is a book somewhat between genres--it is part historical fiction, part fable, and part allegory. While the mix is interesting, it did make for some choppy transitions and led sometimes to a heavy hand in the symbolism and theme department. That aside, Navigating Early was an enjoyable read with a satisfying wrap-up.
Content Analysis:
Profanity/Language: None
Violence/Gore: A few separate reports of death of family members; report of deaths in WWII; report of a character punching another; report of being bit by an animal; report of an animal attacking a character; report of a character killing animals; a character has an accident requiring stitches; report of an accidental/violent death; characters come upon human skeleton; an animal kills a character (no details); a character is bit by an animal; a character accidentally bangs head with mention of blood.
Sex/Nudity: None
Mature Subject Matter:
Death of a family member, parental estrangement, autism, WWII
Alcohol / Drug Use:
Adults drink and smoke cigarettes. A character in a story drinks rum with pirates.
Reviewed By Cindy