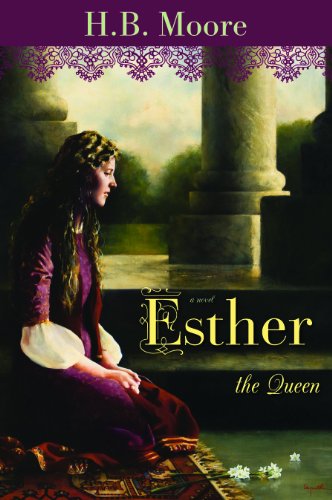 Publisher's Note:
She is a beautiful young Jewess, content in her life of anonymity. He is the most powerful king in the world. When chance brings the two together, the course of history is forever altered. The glittering court of the Persian Empire serves as the backdrop for one of the most poignant tales of courage in the Bible, brought vividly to life in the pages of bestselling author H.B. Moore s sweeping saga. And it begins on a dusty road in the Jewish Quarter. An unexpected meeting between Esther and King Xerxes results in an immediate and unmistakable connection. When Esther is summoned to enter harem the first step toward becoming his wife Esther is torn between her desire to be with Xerxes and the knowledge that they will forever be divided by the secret of her Jewish heritage. Encouraged by her family to do what she must to help her people, she deftly navigates her new position in the palace, quickly becoming beloved by all including Xerxes. But when a treacherous plan threatens to engulf the kingdom in violence, Esther must choose between love and duty. Is she prepared to sacrifice all that she holds dear in order to save her people from certain annihilation?
This book was sent to Compass Book Ratings for review by Covenant Communications
Esther the Queen
by H. B. Moore
Overall Review:
As one of my favorite Bible stories, I couldn't wait to get my hands on Esther the Queen. Award-winning author H.B. Moore takes readers through Esther's eventful rise and rule as Queen of Persia. This fictional retelling is impeccably researched and I enjoyed being immersed in both the Jewish and Persian cultures.
While Moore brings beauty and dimension to all the story's characters, her portrayal of King Xeres was most impressive. I've always gathered that the King was a man to be feared, but Moore casts him as thoughtful and kind, in addition to being a stalwart and powerful ruler. The romance between the King and new Queen is remarkably tender and sweet. Esther's strong character and faith, mixed with Moore's comprehensive research and rich detail, make this novel a must-read!
Content Analysis:
Profanity/Language: None
Violence/Gore: A character plots to kill the Jews and a plot is discovered against the king. There are reports of violence against Jews who try to flee Persia and reports of the guilty being hung for their crimes. A character is hit and a character is poisoned but survives.
Sex/Nudity: Numerous incidents of kissing; numerous sexual references regarding concubines, harem and a character's wedding night; several implied or reported accounts of sexual activity, including talk of a rape.
Mature Subject Matter:
Religious persecution, death
Alcohol / Drug Use:
Wine is consumed.
Reviewed By Rachel