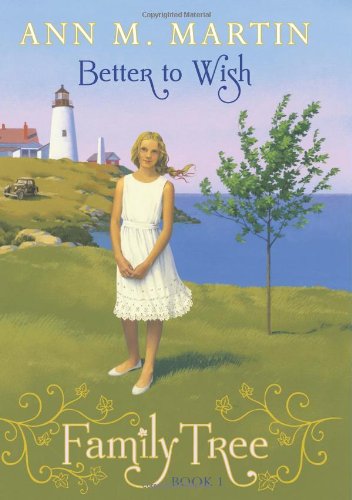 Publisher's Note:
Four generations. Four girls. One family.
An amazing new four-book series from Ann M. Martin.


In 1930, Abby Nichols is eight, and can't imagine what her future holds. The best things today would be having a dime for the fair, keeping her Pops from being angry, and saving up eighty-seven cents to surprise her little sister with a tea set for Christmas.

But Abby's world is changing fast. Soon there will be new siblings to take care of, a new house to move into, and new friends to meet. But there will also be good-byes to say and hard choices to make. As Abby grows older, how will she decide what sort of life will fit her best?

In this incredible new series, bestselling author Ann M. Martin brings the past and the present together one girlhood at a time and shows readers the way a family grows.
This book was sent to Compass Book Ratings for review by Scholastic Press (A Scholastic Imprint)
Better to Wish
by Ann M. Martin
Overall Review:
BETTER TO WISH by Ann M. Martin (BABYSITERS CLUB) is the ambitious beginning of a four-volume, multigenerational series entitled the Family Tree that is set in Maine starting in the 1930s and extending into World War II.
Abby Nichols is the first generation main character. On one level, the author uses Abby to give the reader a glimpse of daily life in the 1930s and 40s; on another level, the reader views Abby growing up involved with her family and friends. Young women readers will bond with Abby and her friends because our youth face the same decisions being made in the novel, i.e. choosing friends, facing death, trying to survive parents and siblings, choosing a career and a husband. Not all the relationships have happy endings and that saves the book from being the typical teenage-struggles chronicle.
Among the other characters in the book, Abby's parents stand out. Readers will respond to "Mama" Nell Nichols because of her love for and understanding of her children; those same readers will recognize there is a fragile thread within her spirit. The father is called Pop but that name suggests caring, closeness, and compassion which are not among his attributes. Perhaps Ms. Martin drew Pop Nichols' character to represent some of the flaws in American society at that time, i.e. blind ambition, religious and ethnic prejudice. On the other hand, he is hardworking and wants to make something of himself. These parents and their struggles will strike a chord with modern parents.
Ms. Martin's writing style reminds me of a series of vignettes that are loosely connected by characters and historical chronology. Because this book is fiction rather than a memoir, I wished there had been more in-depth development of the relationships between the major personalities--especially between Mom and Pop Nichols, between Abby and her controlling father at the time she decides to leave home, and Abby's connection to Zander, one of her love interests. (There isn't enough information to tell why Abby thinks he is any better than the rest of her other male friends.) Reading between the lines helped bridge some gaps but more plot and character development would have provided a smoother and connected narrative.
That being said, readers will like the characters in this novel; parents will be drawn to the recollections of the 30s and 40s, especially if they have heard stories of the time period from parents or grandparents; and the second book will be welcomed.
Content Analysis:
Profanity: 1 mild obscenity
Violence: None
Sex/Nudity: None
Mature Subject Matter:
Racial conflict, religious conflict, death of a family mbmer, death of a firend, mental disorders
Alcohol / Drug Use:
None
Reviewed By Marilyn