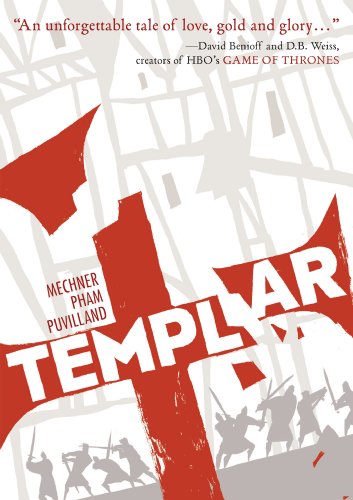 Publisher's Note:
Martin is one of a handful of Templar Knights to escape when the king of France and the pope conspire to destroy the noble order. The pope and king aim to frame the Templars for heresy, execute all of them, and make off with their legendary treasure. That's the plan, anyway, but Martin and several other surviving knights mount a counter-campaign to regain the lost treasure of the Knights Templar.
With gorgeous illustrations by LeUyen Pham and Alexander Puvilland and lush coloring from Hilary Sycamore, this 480-page, full-color, hardcover graphic novel by Jordan Mechner is itself a treasure.
This book was sent to Compass Book Ratings for review by First Second Books
Templar
by Jordan Mechner
Overall Review:
Templar by Jordan Mechner is a massive, exciting, and engaging graphic novel. The artwork alone, done by LeUyen Pham and Alex Puvilland, is pleasing to the eye, and even invokes some cinematic tricks and elements. Not only this, but it is rendered in a manner that gives credit to the saying "a picture is worth a thousand words"-especially when it comes to action scenes. In addition to 480 aesthetically pleasing pages, an interesting plot woven with all the mystery, action, and intrigue that historically surrounds the Templar knights is part of the package. Not all of the characters are deep, but the right characters are, and this gives an interesting mix of predictability and unpredictability to the story. Between the artwork, action, and plot, Templar is by far one of the most enjoyable reads of the year!
Content Analysis:
Profanity/Language: 5 Religious exclamations; 12 mild obscenities; 2 derogatory names, 4 scatalogical words.
Violence/Gore: Characters threaten each other; there are several battle scenes involving fists and weapons, that reuslt in serious injury or death, accompanied with depictions (illustrations) of blood spraying. A character almost drowns.
Sex/Nudity: Characters kiss; several characters mention or leave on nightly pursuits of women; characters do go to a bath house where there is an extended, non-sexual depiction of nudity in men and women; one panel of nudity with mild sexual implication; several characters are approached by prostitutes; there is one instance of implied sexual activity; there are references to, but not discussions of sodomy.
Mature Subject Matter:
Alcoholism, corrupt leaders, betrayal, religion.
Alcohol / Drug Use:
Characters drink. A group of characters become quite drunk.
Reviewed By Jackson