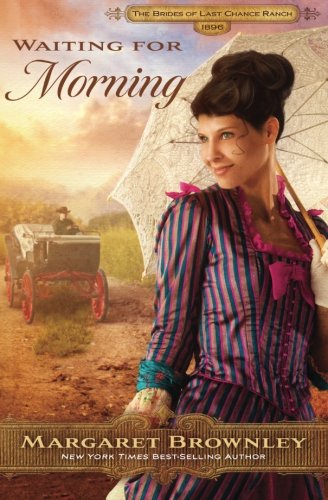 Publisher's Note:
If Molly Hatfield's purple attire doesn't blind you, her dazzling smile will. She doesn't just sing to the cattle, she puts on a whole show. If only she wasn't so stubborn about her brother's care. Or so distrustful of a certain handsome doctor...

There is nothing Molly wouldn't do for her teenaged brother, Donny. Blaming herself for the accident that left him wheel-chair bound, Molly has dedicated her life to his care. But in 1896, gainful employment for a woman is hard to come by. So when Molly learns that an eccentric rancher in Cactus Patch, Arizona, is looking for an heiress--someone to take over management of the ranch in exchange for future ownership--she jumps at the chance to provide a real home for her brother.

If she proves to have a knack for ranching and agrees to remain single for life, the ranch can be hers. Neither stipulation worries Molly. She's resourceful and hardworking. And she gave up dreams of marriage long ago when she dedicated her life to her brother's well-being.

However, Molly didn't bank on meeting Dr. Caleb Fairbanks, the town's handsome and charismatic young doctor, whose backfiring automobilie almost gets him killed when Molly thinks she's being shot at and fires back.

But it's how he is with her brother that really alarms her. Caleb sees past the wheelchair and genuinely likes Donny, but Molly fears he's putting unrealistic ideas into her brother's head. Falling in love with Caleb would threaten everything she's worked for, even her brother's future happiness. It'll take an act of congress to convince her otherwise--and maybe even a little help from above.
This book was sent to Compass Book Ratings for review by Thomas Nelson
Waiting for Morning
by Margaret Brownley
Overall Review:
Margaret Brownley offers Waiting for Morning as the second installment to The Brides of Last Chance Ranch series. Those who have read the first book in the series might be a bit surprised at the more serious undertones of this book. It is still lighthearted and fun, but a bit more on the believable and less on the ridiculous side.
Brownley's characters are fun and interesting. The antics of Lula Belle and Aunt Bessie are quite amusing and enjoyable. Historical fiction with a humorous premise makes for easy reading, but the author makes sure to include ponderable points.
One of the attractions of this series is the unique situations which lead women to come to Last Chance Ranch and agree to never marry. The concept in and of itself is humorous, but also somewhat sad. It is nice to see the characters triumph over their challenges.
Content Analysis:
Profanity/Language: 2 derogatory names.
Violence/Gore: Characters fire weapons; report of character wanting to whip another's legs as part of medical treatment; report of character shooting an animal, not lethal; animal put down with rifle; characters throw objects; animal scratched by another animal.
Sex/Nudity: Mention of nude female in painting; non-married and married characters kiss, embrace and hold hands; non-married character inadvertently touches bosom of female.
Mature Subject Matter:
Loss of child, terminal illness, divorce, physical impairments.
Alcohol / Drug Use:
Characters consume liquor in a bar. Characters are inebriated.
Reviewed By Susan