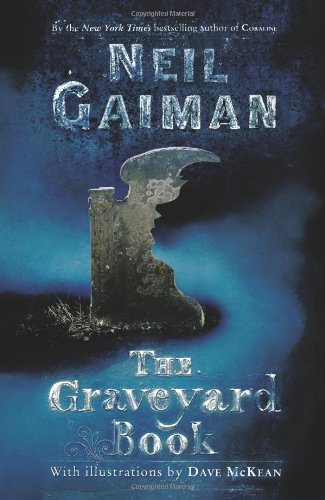 Publisher's Note:
Nobody Owens, known to his friends as Bod, is a normal boy.
He would be completely normal if he didn't live in a sprawling graveyard, being raised and educated by ghosts, with a solitary guardian who belongs to neither the world of the living nor of the dead.
There are dangers and adventures in the graveyard for a boy-an ancient Indigo Man beneath the hill, a gateway to a desert leading to an abandoned city of ghouls, the strange and terrible menace of the Sleer.
But if Bod leaves the graveyard, then he will come under attack from the man Jack—who has already killed Bod's family. . . .
Beloved master storyteller Neil Gaiman returns with a luminous new novel for the audience that embraced his New York Times bestselling modern classic Coraline. Magical, terrifying, and filled with breathtaking adventures, the graveyard book is sure to enthrall readers of all ages.
The Graveyard Book
by Neil Gaiman
Overall Review:
Neil Gaiman's The Graveyard Book is an exciting, imaginative and riveting read. Inspired by Rudyard Kipling's classic The Jungle Book, this Newbery Honor winner follows the life of young Nobody Owens, or Bod, as he's affectionally called. Though Bod mixes and mingles with ghosts, witches and ghouls, the mystery of what happened years ago haunts him. Gaiman uses his expert storytelling to whisk readers away on enchanted adventures with the extraordinary and lovable Bod, all while including a treasure trove of imagery and symbolism. I thoroughly enjoyed this well-crafted tale.
The Graveyard Book is very deserving of its honors, but I must issue a word of caution. Graveyard's scenes are never overly frightening, but the book is macabre. The frequent talk of death may affect some readers. For comparison purposes, the look and feel of The Graveyard Book closely resembles Gaiman's other bestseller Coraline.
An audio version for this book is available. It is read by the author himself. The recording is phenomenal and won an Audiofile Earphone Award. I highly recommend listening to it!
Content Analysis:
Profanity/Language: None
Violence/Gore: Several verbal threats are made by villains and there are numerous unsuccessful attempts to cause bodily harm with a rope and knife; there is a report of a centuries old suicide and hanging; a character is spanked; a character is hit; a character is forcefully held by the arm and taken hostage; a family is murdered in a non-detailed scene of violent death; a girl recalls her death by fire (no detail is given).
Sex/Nudity: None
Mature Subject Matter:
Murder and attempted murder, death of a family member, death of a friend, mention of suicide, thieving.
Alcohol / Drug Use:
A mention of "some drunks about".
Reviewed By Rachel