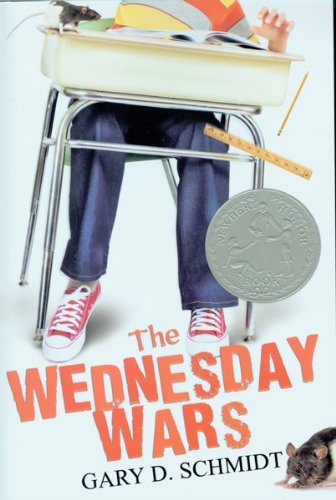 Publisher's Note:
In this Newbery Honor-winning novel, Gary D. Schmidt offers an unforgettable antihero. THE WEDNESDAY WARS is a wonderfully witty and compelling story about a teenage boy's mishaps and adventures over the course of the 1967–68 school year.

Meet Holling Hoodhood, a seventh-grader at Camillo Junior High, who must spend Wednesday afternoons with his teacher, Mrs. Baker, while the rest of the class has religious instruction. Mrs. Baker doesn't like Holling—he's sure of it. Why else would she make him read the plays of William Shakespeare outside class? But everyone has bigger things to worry about, like Vietnam. His father wants Holling and his sister to be on their best behavior: the success of his business depends on it. But how can Holling stay out of trouble when he has so much to contend with? A bully demanding cream puffs; angry rats; and a baseball hero signing autographs the very same night Holling has to appear in a play in yellow tights! As fate sneaks up on him again and again, Holling finds Motivation—the Big M—in the most unexpected places and musters up the courage to embrace his destiny, in spite of himself.
The Wednesday Wars
by Gary D. Schmidt
Overall Review:
The Wednesday Wars by Gary D. Schmidt is most deservedly a Newbery Honor Book. Frankly, I love this book. Set against the backdrop of 1967 and 1968, the reader sees historical events such as the Vietnam War and the assasination of polictical figures in the context of the life of seventh grader Holling Hoodhood. However, this book isn't just historical fiction, it has heart as it looks at friendships, disappointments, the death of gods, teacher-student relationships, Shakespeare, and choosing your own path in life. And all this is wrapped up in the dry humor of its narrarator, Holling, and his seventh grade escapades.
This book is a great guy read, and because it follows Holling Hoodhood's seventh grade year, it is particularly perfect for seventh graders. (Although, it's mild content levels would make it a good read for even younger students.) Laugh, cry, and think as you read The Wednesday Wars!
Content Analysis:
Profanity/Language: None
Violence/Gore: Reports/TV newscasts of Vietnam War involving battles, casualties, and soldiers missing in action; report of violence in Shakespeare plays; a character comes to school with a black eye; animals are killed in an accident; a character is punched in nose; a character is in a car accident, no major injuries; report of the assassination of a political figure; a character threatens to stuff gum up another character's nose; a character has bloody knees with implied violence, no details.
Sex/Nudity: Characters hold hands.
Mature Subject Matter:
Vietnam War, Racial Prejudice
Alcohol / Drug Use:
An adult smokes. 8th grade boys are smoking in the bathroom at school.
Reviewed By Cindy