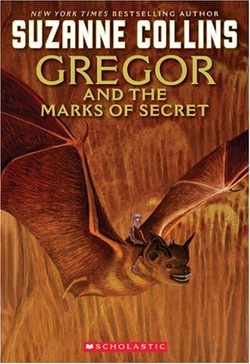 Publisher's Note:
It's only a few months since Gregor and Boots returned from the Underland, leaving their mother behind to heal from the plague. Though Gregor's family receives frequent updates on her condition, they all know Gregor must return to fulfill his role as the warrior who is key to the Underlanders' survival. Accompanied by his now-talkative little sister Boots, still considered the honorary "princess," Gregor joins forces with another princess--12-year-old Luxa--and Ripred the rat to defend the Underlanders and the vulnerable "Nibblers," or mice, from the rat army.
Gregor and the Marks of Secret
by Suzanne Collins
Overall Review:
Gregor and the Marks of Secret doesn't begin with the reciting of a prophecy—in fact, no one even imagines there is one! Now that Gregor's mother is stuck in the Underland recovering from the plague, it seems almost the entire family is down there at one time or another, but it's very laid back and almost fun! But, life doesn't stay quiet for long for poor Gregor and his sister, Boots, and soon they find themselves racing for their lives instead of having a picnic! The mice need help, but no one can find them! While Gregor and the rest of his comrades search for them, they encounter earthquakes, avalanches, caverns full of active volcanoes, intense air currents, some very angry rats, and even a surprising encounter with some scorpions!

I enjoyed many of the parallels in this novel. At times, I felt I was in the middle of Journey to the Center of the Earth with all the travels through Hades Hall and the Firelands. And I must admit to seeing some similarities to WWII (The Hilter/Nazi regime and concentration camps, specifically), which was very interesting and thought provoking. And with all the singing of the nursery rhymes, it makes you think about the ones that we grew up with (Ring Around The Rosies, for example) and what they truly mean!

The journey of discovery that is made by everyone is also very interesting. Gregor, Luxa, and Howard learn some tough things along their way. Discovering who you are isn't always a pleasant experience. The importance of stepping back to take a look at yourself through someone else's eyes and learning to trust your own instincts—or the instincts of others—becomes an eye-opening priority for our heroes.

I am constantly amazed at how Suzanne Collins can come up with such amazing stories. You think you know where you're headed, but then something new pops up and you're on a completely different route! It is fun and full of adventure—I can't wait to see where the final chapter takes me!
Content Analysis:
Gregor and the Marks of Secret is another installment that is free of any sexual content, and has only one word that could be construed as profanity, as well as a few crude references to the rear end of some fireflies.


There is violence once again. There is a very unbalanced character who kills another character and fights with many. There is one incidence of cannibalism (a rat eats a rat). The rats are always trying to kill others, especially one specific character. Characters are attacked by snakes, and the battle that ensues is intense. Marks are left by characters on walls or other surfaces that signify a death sentence. A specific group is targeted and forced from their homes—they are killed en masse in two different instances: Once by pushing all of them off a cliff; another when they are all killed by poison gas inside a volcano crater. A character dies from poison gas from the volcanoes.
Mature Subject Matter:
Mature themes included arranged marriages and life choices.
Alcohol / Drug Use:
***
Reviewed By Emily