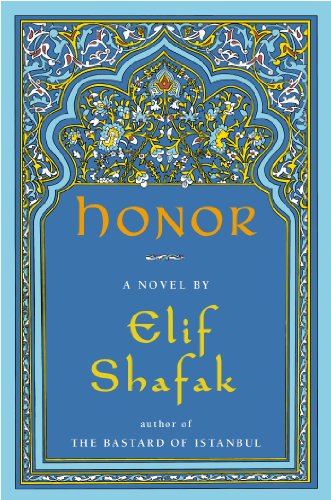 Publisher's Note:
An honor killing shatters and transforms the lives of Turkish immigrants in 1970s London

Internationally bestselling Turkish author Elif Shafak's new novel is a dramatic tale of families, love, and misunderstandings that follows the destinies of twin sisters born in a Kurdish village. While Jamila stays to become a midwife, Pembe follows her Turkish husband, Adem, to London, where they hope to make new lives for themselves and their children.

In London, they face a choice: stay loyal to the old traditions or try their best to fit in. After Adem abandons his family, Iskender, the eldest son, must step in and become the one who will not let any shame come to the family name. And when Pembe begins a chaste affair with a man named Elias, Iskender will discover that you could love someone with all your heart and yet be ready to hurt them.

Just published to great acclaim in England, Honor is a powerful, gripping exploration of guilt and innocence, loyalty and betrayal, and the trials of the immigrant, as well as the love and heartbreak that too often tear families apart.
This book was sent to Compass Book Ratings for review by Viking
Honor
by Elif Shafak
Overall Review:
Honor by Turkish writer Elif Shafak is one of the most gripping and well-written books I've had the pleasure to read. The story spans three time periods and takes place in two very different locations, 'a village near the river Euphrates' and London.
The story follows three generations of one family and the secrets and stories that bind them together. The main events circle around an honor killing which shocks the immigrant Kurdish/Turkish community in 1970s London. The lead up to, and aftermath of this terrible murder reverberate through the pages. The story is not told in a linear style which means we often know things that the characters have not yet experienced, this really adds to the vivid portrayals of the characters and their lives.
I read Shafak's Forty Rules of Love last year and while I enjoyed it, I think Honor shows that this author is just getting better and better. Honor has been shortlisted for the 2013 Booker Prize and Elif Shafak surely deserves her place on that prestigious list.
Content Analysis:
Language/Profanity: 3 religious exclamations, 1 derogatory name, 6 scatological words, 6 F-word derivatives.
Violence/Gore: An animal is sacrificed; circumcision is described with some detail; reports of physical racist abuse; damage to property; a woman is beaten by a man; a teenager murders a family member; three suicides with some detail.
Sex/Nudity: Characters flirt and touch; three incidences of implied sexual activity; four mature discussions concerning sex; sexual activity without explicit description between adults.
Mature Subject Matter:
Gambling, Underage sex, Illegal drugs, Suicide, Murder, Prostitution, Drugs, Marriage Infidelity, Racism.
Alcohol / Drug Use:
Cannabis is smoked by a ten year old boy with adult characters. Alcohol is drunk at a bar.
Reviewed By Ailsa