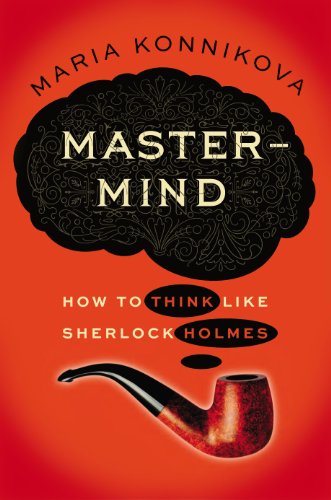 Publisher's Note:
No fictional character is more renowned for his powers of thought and observation than Sherlock Holmes. But is his extraordinary intellect merely a gift of fiction, or can we learn to cultivate these abilities ourselves, to improve our lives at work and at home?

We can, says psychologist and journalist Maria Konnikova, and in Mastermind she shows us how. Beginning with the "brain attic"--Holmes's metaphor for how we store information and organize knowledge--Konnikova unpacks the mental strategies that lead to clearer thinking and deeper insights. Drawing on twenty-first-century neuroscience and psychology, Mastermind explores Holmes's unique methods of ever-present mindfulness, astute observation, and logical deduction.

In doing so, it shows how each of us, with some self-awareness and a little practice, can employ these same methods to sharpen our perceptions, solve difficult problems, and enhance our creative powers. For Holmes aficionados and casual readers alike, Konnikova reveals how the world's most keen-eyed detective can serve as an unparalleled guide to upgrading the mind.
Mastermind: How to Think Like Sherlock Holmes
by Maria Konnikova
Overall Review:
Sherlock Holmes' legendary powers of deduction have always seemed unnatural--almost super-human--akin to flying or x-ray vision. The genius that is Sherlock Holmes is universally known and admired. Although a fictional character himself, Sherlock's methods are quite real and can be learned or at least understood. Much like Sherlock's partner, we too can be taught in the art of deduction and logic. A good place to start is Maria Konnikova's book Mastermind: How to Think like Sherlock Holmes.
Konnikova uses excerpts from Sir Arthur Conan Doyle's stories about Sherlock to develop, understand, and educate the reader so they can try to undertake the process of developing deduction and logical reasoning on par with the great detective. Combining the stories of Sherlock with psychological studies pertaining to memory, decision making, and the synthesis of knowledge, Konnikova has found an entertaining narrative to convey the latest findings about how the brain works. The book does not give you a step by step regiment of exercises or a detailed plan that will directly lead the reader to become a deductive juggernaut. The book does give excellent overall advice about how to keep your brain organized, why we think the way we do, what we can do to train, and develop our brains.
Entertaining and informative this book is definitely worth the read. If you are a Sherlock fan it is a must read.
Content Analysis:
Profanity/Language: None
Violence/Gore: In referencing some Sherlock Holmes cases there is mention on murder victims, non-detailed scenes of violent death.
Sex/Nudity: None
Mature Subject Matter:
In referencing Sherlock Holmes cases there is mention of murder, theft, and illegitimate children.
Alcohol / Drug Use:
Sherlock smokes a pipe and sometimes partakes in alcoholic beverages. Sherlock's drug use is not mentioned although it is well known.
Reviewed By Matthew