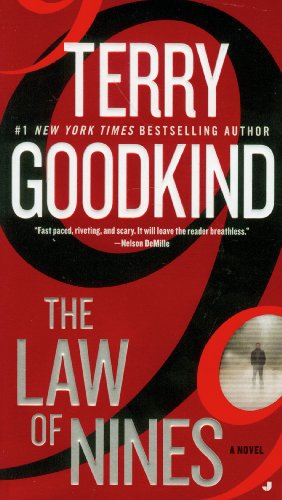 Publisher's Note:
Turning twenty-seven may be terrifying for some, but for Alex, a struggling artist living in the Midwest, it is cataclysmic. Something about this birthday, his name, and the beautiful woman whose life he has just saved has suddenly made him-and everyone he loves-a target. A target for extreme and uncompromising violence...
The Law of Nines
by Terry Goodkind
Overall Review:
Terry Goodkind's Sword of Truth series is a popular fantasy collection that is used as a back story for his stand alone book, The Law of Nines. Readers who haven't read the Sword of Truth series will find The Law of Nines a great adventure story filled with fast-paced action. Those who have read the previous series will enjoy the references from the fantasy world that Goodkind has masterfully built.
The author has a great way of creating situations that seem hopeless and then providing a creative solution for the character to escape or at least make the best of the circumstances. These solutions do not come off as unrealistic and really set the tone of right versus wrong, good versus evil that persists throughout all of Goodkind's work.
A high-speed action story mixed with social commentary extolling the virtues of individual freedom and liberty, The Law of Nines is a fantasy book reader's gem.
Content Analysis:
Language/Profanity: 7 Religious exclamations; 18 mild obscenities; 3 religious profanities; 12 derogatory names; 5 scatological words; 4 anatomical terms; 6 F-word derivatives.
Violence/Gore: Character is killed and family home destroyed in a fire; character is tortured by being hung by hands, toes barely touching the ground then punched/slapped; characters are killed with knives and guns, graphic in nature with description of blood and gore; several fight scenes involving martial arts resulting in death or fractured limbs; massive fire in large building causes death and destruction of property; many second hand accounts of acts of terrorism, non-detailed descriptions of death and sabotage resulting in destruction of property.
Sex/Nudity: Female character attempts rape of male character, some nudity; threats involving rape or sexual assault.
Mature Subject Matter:
Death of family member, terrorism, mental health, torture, rape, arson.
Alcohol / Drug Use:
Anti-psychotic drugs are used to control people held against their will; drugs are used to interrogate characters.
Reviewed By Matthew