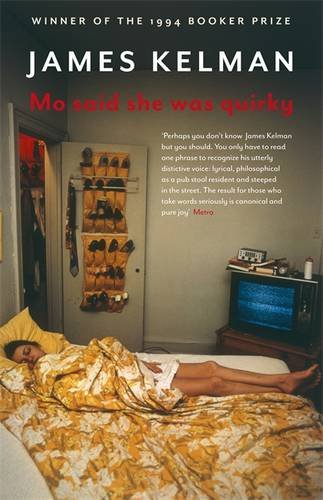 Publisher's Note:
James Kelman, the Man Booker Prize–winning author of How Late It Was, How Late, tells the story of Helen—a sister, a mother, a daughter—a very ordinary young woman. Her boyfriend said she was quirky but she is much more than that. Trust, love, relationships; parents, children, lovers; death, wealth, home: these are the ordinary parts of the everyday that become extraordinary when you think of them as Helen does, each waking hour. Mo Said She Was Quirky begins on Helen's way home from work, with the strangest of moments when a skinny, down-at-heel man crosses the road in front of her and appears to be her lost brother. What follows is an inspired and absorbing story of twenty-four hours in the life of a young woman.
This book was sent to Compass Book Ratings for review by Other Press
Mo Said She Was Quirky
by James Kelman
Overall Review:
James Kelman's Mo Said She Was Quirky follows the life and thoughts of one woman, a croupier in a casino, through just over 24 hours. Helen has a young daughter and lives in a tiny London flat with her boyfriend. What starts with a possible sighting of her long-lost brother leads her on long trips into her memories and deeper thoughts about her life, her fears, and the society we live in.
James Kelman has won much praise and many awards throughout his long writing career for his unique and engaging style. Kelman tends to write exclusively in the first person using the character's internal monologue. Often he also writes in Scottish dialect, which for a reader unfamiliar to the sounds of the spoken language can be difficult to understand. Mo Said She Was Quirky would serve as an excellent introduction to Kelman's distinctive style as the central character is Scottish but speaks in fairly standard English.
It's a noisy, often repetitive place inside Helen's head and at times that can become a little overwhelming. This is however a very honest, powerful and at times funny read.
Content Analysis:
Profanity/ Language: 200+ religious exclamations, 17 mild obscenities, 3 scatological words, 1 anatomical term, 5 F-word derivatives.
Violence/Gore: The central character frequently discusses violent acts in the world and in the news such as rape, child abuse, knife crimes and murder but none of these acts actually take place in the story. Two verbal threats, 3 second hand reports of violence (from the characters life rather than the news), one non-life threatening injury, 2 frightening scenes.
Sex/Nudity: Characters flirt, touch and caress, 2 sexual references, 2 incidents of nudity with sexual innuendo, one scene of sexual activity between adults with a few details, a further scene of sexual activity between adults with detailed descriptions (4 pages).
Mature Subject Matter:
Homelessness, gambling, alcoholicism, divorce, rape, marital infidelity, poverty, racism, domestic abuse.
Alcohol / Drug Use:
Alcohol is drunk in a casino.
Reviewed By Ailsa