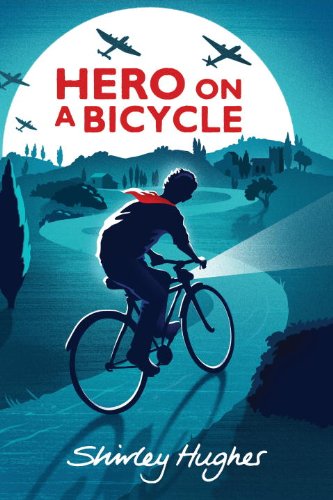 Publisher's Note:
In her first novel, beloved author Shirley Hughes presents a World War II adventure proving that in extraordinary circumstances, people are capable of extraordinary things.

Italy, 1944: Florence is occupied by Nazi forces. The Italian resistance movement has not given up hope, though — and neither have thirteen-year- old Paolo and his sister, Costanza. As their mother is pressured into harboring escaping POWs, Paolo and Costanza each find a part to play in opposing the German forces. Both are desperate to fight the occupation, but what can two siblings — with only a bicycle to help them — do against a whole army? Middle-grade fans of history and adventure will be riveted by the action and the vividly evoked tension of World War II.
This book was sent to Compass Book Ratings for review by Candlewick Press
Hero on a Bicycle
by Shirley Hughes
Overall Review:
Sporting a striking cover, Hero on a Bicycle by Shirley Hughes is an authentic and moving story set in the Italian countryside during World War II. The characters and their plights are genuine and Ms. Hughes makes the danger, stress, and tension palpable. The author alternates viewpoints among the mother, sixteen year old Constanza, and 13 year old Paolo, showing what the war is to each of them and providing a variety of characters that the reader can connect with. In an age-appropriate manner we are shown the horrors of war, learn that it is difficult to feel a hero when the world crumbles around you, and that children don't remain children under such conditions.
Outstanding historical fiction examining a well-known war in a lesser-known setting from a human perspective, Hero on the Bicycle has all the elements necessary to become a classic. Highly recommended!
Content Analysis:
Profanity/Language: 6 religious exclamations; 3 mild obscenities.
Violence/Gore: Characters tussle; punch in the stomach; report of being shot at; mangy general reference to the fighting and bombings in relation to WW II fighting; a character is shot, chased, with mention of blood when wound is treated; character is kicked; a character is seen with a bruised, cut, and bleeding face; report of a hanging; a brief scene (~ 1 paragraph) with shooting, a death, injuries, and brief mention of blood; an animal is killed and characters come after to find it with mention of "blood and brains"; bombings; a barn catches fire; 1 page scene with a bomb, death, mention of blood/injuries; report of deaths and torture by Nazis (no details).
Sex/Nudity: Reference to "bad women"; a male character strokes a female character's hair; characters briefly embrace and kiss; report of soldiers washing in the yard "nearly naked except for their underpants".
Mature Subject Matter:
World War II, Death, Economic Scarcity
Alcohol / Drug Use:
Adults smoke. A character is given brandy when a wound is treated.
Reviewed By Cindy