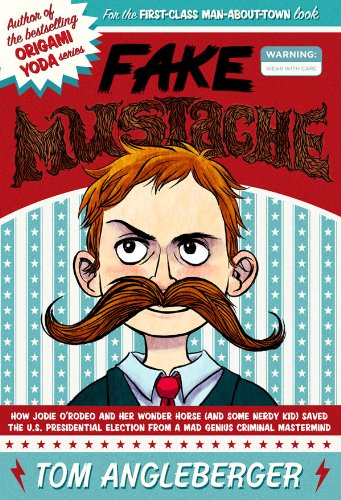 Publisher's Note:
Award-winning author Tom Angleberger flexes his comic muscle in this hairy adventure story with twists at every turn.
Regular kid Lenny Flem Jr. is the only one standing between his evil-genius best friend—Casper, a master of disguise and hypnosis—and world domination. It all begins when Casper spends money from his granny on a spectacularly convincing fake mustache, the Heidelberg Handlebar #7. With it he's able rob banks, amass a vast fortune, and run for president. Is Lenny the only one who can see through his disguise? And will he be able to stop Casper from taking over the world?
Fake Mustache
by Tom Angleberger
Overall Review:
Face Mustache or, How Jodie O'Rodeo and Her Wonder Horse (And Some Nerdy Kid) Saved the U.S Presidential Election from a Mad Genius Criminal Mastermind by Tom Angleberger is all about fun (just in case you couldn't figure that out from the title). It is over-the-top silliness mixed with a little bit of spoof and is just right for middle grade readers, especially boys. The brief chapters make it good for younger readers and there is plenty of action to keep the plot moving along. There isn't much to complain about, but not too much to rave about either. Angleberger, who also authored The Strange Case of the Origami Yoda, knows his audience and writes just for them.
Content Analysis:
Profanity/Language: None
Violence/Gore: Objects are thrown at people, sometimes hitting them; bike crash without serious injury; extended cartoon-style fight among characters with water guns, booger guns, laughbombs, etc.; a character is knocked unconscious; a gun is shot; a character breaks their hand.
Sex/Nudity: Characters hold hands.
Mature Subject Matter:
Crime (Theft & Election Rigging)
Alcohol / Drug Use:
None
Reviewed By Cindy