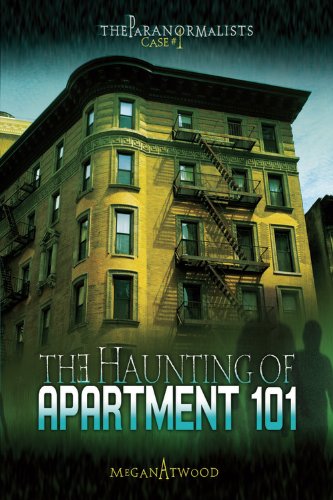 Publisher's Note:
Jinx felt something rumble through the room. She began to shake and moved closer to Jackson. "Do you feel that?" she whispered. Jackson nodded. When Jinx glanced at him, his face had turned bright white. As if he'd seen a ghost. Jinx was a social reject who became a punked-out paranormal investigator. Jackson is a jock by day and Jinx's ghost-hunting partner by night. When a popular girl named Emily asks the duo to explore a haunting in her dad's apartment, Jinx is skeptical—but Jackson insists they take the case. And the truth they find is even stranger than Emily's story.
This book was sent to Compass Book Ratings for review by Lerner Publishing Group
The Haunting of Apartment 101
by Megan Atwood
Overall Review:
Readers who love a good mystery will definitely want to meet The Paranormalists. This boy/girl team of modern-day Ghostbusters knows how to entertain.
I was on the edge of my seat as I read this story. It's thrilling, suspenseful, and has some unexpected twists. Also unexpected was the level of plot sophistication, given the fact that the book is written for reluctant readers. I was pleasantly surprised to find that this book doesn't talk down to kids who aren't prone to plow through books for fun (like I used to do). In fact, this book was a quick, fun read for me, and I'd recommend it to anyone who's outgrown Nancy Drew and is ready for something a little more contemporary.
In addition to a great mystery, the story also deals well with the issues of acceptance, bullying, and social challenges most teens face. Jinx is a sympathetic character, and her friend Jackson certainly brings out both the best and worst in her. I found myself just as interested in their friendship and Jinx's possibilities for personal growth as I was in the main story line.
I'll be recommending The Haunting of Apartment 101 unreservedly to my students. I predict many of them will find a new friend in Jinx.
Content Analysis:
Profanity/Language: 1 religious exclamation; 2 anatomical terms.
Violence/Gore: A character refers to a murder/suicide that took place in the distant past; a character receives minor cuts.
Sex/Nudity: Masturbation is referred to.
Mature Subject Matter:
Death of family member; divorce; suicide, bullying.
Alcohol / Drug Use:
Underage drinking is discussed.
Reviewed By Leslie