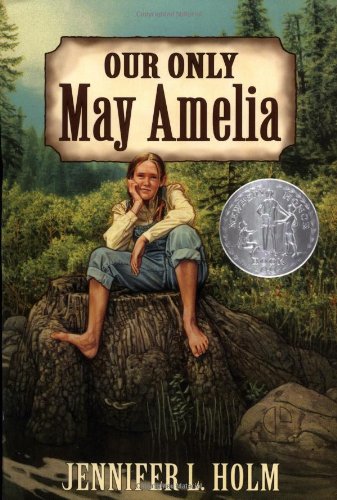 Publisher's Note:
It isn′t easy being a pioneer in the state of Washington in 1899, but it′s particularly hard when you are the only girl ever born in the new settlement. With seven older brothers and a love of adventure, May Amelia Jackson just can′t seem to abide her family′s insistence that she behave like a Proper Young Lady. She′s sure she could do better if only there were at least one other girl living along the banks of the Nasel River. And now that Mama′s going to have a baby, maybe there′s hope.
Inspired by the diaries of her great-aunt, the real May Amelia, first-time novelist Jennifer Holm has given us a beautifully crafted tale of one young girl whose unique spirit captures the courage, humour, passion and depth of the American pioneer experience.
∗Newbery Honour Book (USA), 2000
Our Only May Amelia
by Jennifer L. Holm
Overall Review:
Journey to nineteenth century Washington state in Our Only May Amelia, a beautiful and touching Newberry Honor winner. Inspired by author Jennifer L. Holm's own family history, the book follows the misadventures of May Amelia, a girl who is anything but a "proper young lady". Readers will find May Amelia to be a one-of-a-kind character -- spirited and strong yet relatable and prone to making mistakes. The story is well-written, with distinct and vivid secondary characters on every page. I also loved learning about Finnish immigrants and how they lived after settling in America. Though targeted for a younger audience, parents and preteens will equally enjoy this heartwarming tale.
A fantastic audio version of this book is available. It is read by actress Emmy Rossum, who performs with both exuberance and excitement. At the novel's conclusion, the author speaks too!
Content Analysis:
Profanity/Language: 4 religious exclamations; 1 mild obscenity; 1 religious profanity
Violence/Gore: A verbal threat; reports of violence regarding suicide, murder, the Civil War and a fight; a character is whacked with a cane; a character gets a foot stuck in an animal trap
Sex/Nudity: None
Mature Subject Matter:
Death of a family member
Alcohol / Drug Use:
A town drunk appears in a scene; a character smokes.
Reviewed By Rachel