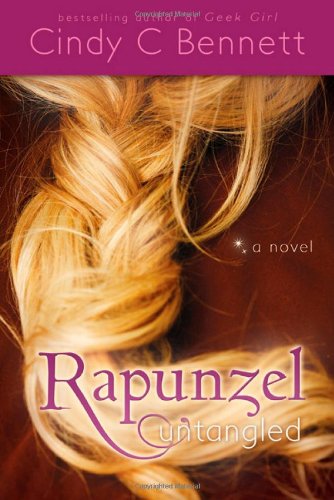 Publisher's Note:
Told that she must be indoors at all times, Rapunzel feels trapped in the huge mansion where she lives. But when school demands to allow her access to the Internet, she discovers Facebook and becomes friends with Fane, a local teenager who changes her whole world. This story will have you entangled from beginning to end.
This book was sent to Compass Book Ratings for review by Sweetwater Books
Rapunzel Untangled
by Cindy C. Bennett
Overall Review:
Pretend the fairytale Rapunzel doesn't exist, and then imagine it is really taking place in a modern-day setting with Rapunzel stuck in her tower, full of delightful innocence. Add an incredibly creepy (and crazy) "mother" who has an unhealthy obsession with sixes and you have a captivating re-telling of the dark, yet beloved tale. If I could change anything about Rapunzel Untangled, I wouldn't. Bennett does such a great job of making the story her own, while still making it comfortably recognizable. The changes to the story to make it take place in a current setting are fun and frequently humorous. You can't help but love Rapunzel with her charm and sweetness, despite having lived a disturbing life and being wronged by the one person she trusted. If you love a fairytale with a good twist, you must read this book!
Content Analysis:
Profanity/Language: None
Violence/Gore: Many (21) brief incidents including verbal threats; second hand report of a few murders (with little to no detail); baby miscarried; character's children and spouse die; report that character nearly drowns; second hand report of child being neglected and abused by parents; character being dragged down stairs; character being tasered; fantasy violence of characters being smashed into walls and another character imploding; séances and witchcraft; building collapses (no one is injured).
Sex/Nudity: Many (41) brief incidents including talking about kissing; thinking about hugging and holding arm; character removes clothing to bathe; touching neck; holding hands; kiss; character accidentally falls on top of another character; touching face; slow dancing.
Mature Subject Matter:
Kidnapping, murder, child neglect/abuse, divorce, séances and witchcraft.
Alcohol / Drug Use:
Character is given drugs to induce unconsciousness.
Reviewed By Jenny