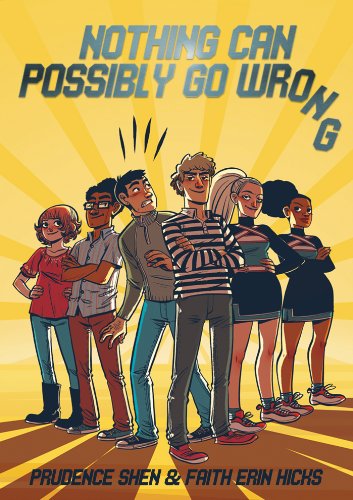 Publisher's Note:
You wouldn't expect Nate and Charlie to be friends. Charlie's the laid-back captain of the basketball team, and Nate is the neurotic, scheming president of the robotics club. But they are friends, however unlikely—until Nate declares war on the cheerleaders. At stake is funding that will either cover a robotics competition or new cheerleading uniforms—but not both.
It's only going to get worse: after both parties are stripped of their funding on grounds of abominable misbehavior, Nate enrolls the club's robot in a battlebot competition in a desperate bid for prize money. Bad sportsmanship? Sure. Chainsaws? Why not. Running away from home on Thanksgiving to illicitly enter a televised robot death match? Of course!
In Faith Erin Hicks' and Prudence Shen's world of high school class warfare and robot death matches, Nothing can possibly go wrong.
This book was sent to Compass Book Ratings for review by First Second Books
Nothing Can Possibly Go Wrong
by Prudence Shen
Overall Review:
From page one, you're pretty sure everything is going to go wrong, and sure enough, it does. However, this story really goes right in the end. High school kids will recognize a lot of the pain and suffering that comes from wanting to fit in, break away from parents, and take on the responsibilities of adults. They'll also get a witty, entertaining look at what happens when they try too hard to achieve all those things.
Nothing Can Possibly Go Wrong is a story with a great moral. A lot goes wrong, and many mistakes are made, but in the end everyone comes together. We learn some great lessons without being beaten over the head with the message.
The artwork is fun, and it's perfectly styled for the themes of the story--edgy and emotionally charged. I barely even noticed that the whole book was black and white! These characters and their story bring their own color to the pages. I recommend Nothing Can Possibly Go Wrong to any teen who is struggling to stay afloat in high school's uncertain waters. You'll certainly find friends in Charlie and Nate, and you may even like the nasty cheerleaders.
Content Analysis:
Profanity/Language: 14 religious exclamations; 4 mild obscenities; 1 derogatory name; 5 anatomical terms; 1 offensive hand gesture.
Violence/Gore: Two characters have bruised faces after an implied scuffle; a character is seen choking another character in semi-jest with no injuries.
Sex/Nudity: Two characters briefly hold hands; an innuendo is made regarding beastiality.
Mature Subject Matter:
Divorce, bullying, vandalism, stealing, disobedience to parents.
Alcohol / Drug Use:
A minor throws an unsupervised party in which some guests bring alcohol.
Reviewed By Leslie