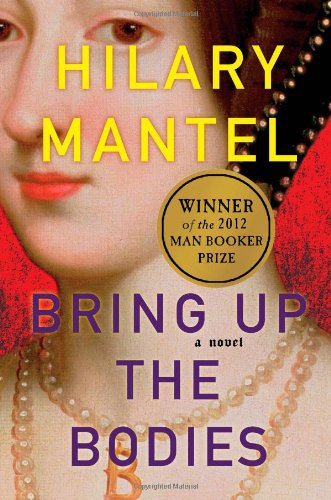 Publisher's Note:
Winner of the 2012 Man Booker Prize
Winner of the 2012 Costa Book of the Year Award
The sequel to Hilary Mantel's 2009 Man Booker Prize winner and New York Times bestseller, Wolf Hall delves into the heart of Tudor history with the downfall of Anne Boleyn
Though he battled for seven years to marry her, Henry is disenchanted with Anne Boleyn. She has failed to give him a son and her sharp intelligence and audacious will alienate his old friends and the noble families of England. When the discarded Katherine dies in exile from the court, Anne stands starkly exposed, the focus of gossip and malice.
At a word from Henry, Thomas Cromwell is ready to bring her down. Over three terrifying weeks, Anne is ensnared in a web of conspiracy, while the demure Jane Seymour stands waiting her turn for the poisoned wedding ring. But Anne and her powerful family will not yield without a ferocious struggle. Hilary Mantel's Bring Up the Bodies follows the dramatic trial of the queen and her suitors for adultery and treason. To defeat the Boleyns, Cromwell must ally with his natural enemies, the papist aristocracy. What price will he pay for Anne's head?
Bring Up the Bodies is one of The New York Times' 10 Best Books of 2012, one of Publishers Weekly's Top 10 Best Books of 2012 and one of The Washington Post's 10 Best Books of 2012.
Bring Up the Bodies
by Hilary Mantel
Overall Review:
"I am already fully employed, and more than fully, it is no small enterprise, to bring down a queen of England"
--- Hilary Mantel, Bring Up the Bodies
King Henry VIII is still the ever-demanding monarch. Thomas Cromwell is still the King's right-hand man, carrying out every royal command. Now Henry wants out of his three year marriage to Anne Boleyn, and Cromwell must make it happen...
Witty, smart and often irreverent in dialogue and dealings, Bring Up the Bodies is as good, if not better, than Wolf Hall. Award-winning author Hilary Mantel briefly summaries Cromwell's previous work before plunging into an intense and detailed storyline regarding the unraveling of Queen Anne. Mantel effortlessly shows the evolution of Cromwell's complex character, continually twisting my thoughts and opinions about this self-made hero. Unlike its predecessor, Bring Up the Bodies covers a brief period of time, making it much shorter in page length. This is deliciously rich historical fiction and most deserving of its honors.
Content Analysis:
Profanity/Language: 23 religious exclamations, 4 mild obscenities, 1 religious profanity, 31 derogatory names, 1 scatological word, 1 anatomical term, 3 f-word derivatives
Violence/Gore: Several verbal threats; multiple reports of violence and hangings; a fire destroys property; a character is struck; prisoners are beheaded without detail; a character is beheaded with blood and gore.
Sex/Nudity: Three non-sexual depictions of nudity; frequent sexual references regarding the Queen's fidelity to the King; jokes and other sexual conquests are mentioned; numerous implied or reported accounts of sexual activity; one incident of nudity with sexual innuendo; sexual mature discussions regarding sex and the Queen's guilt; three accounts of sexual activity without explicit detail between adults; one detailed description of sex between adults.
Mature Subject Matter:
Accusations of incest, infidelity, and adultery; slander; death
Alcohol / Drug Use:
Frequent drinking
Reviewed By Rachel