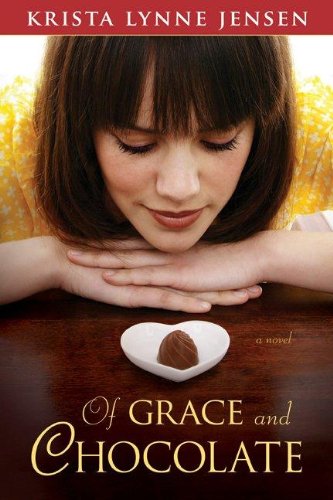 Publisher's Note:
Jillian Parrish likes to keep things predictable. After working for a local publishing company, she returns alone to a spotless apartment, a little dog, and a heavenly chunk of 70 percent cacao and sugar. By design, the closest Jill gets to messy complexities is in the pages of the novel she's writing. But her carefully arranged life is turned upside down the day she loses her keys and her phone and her flash drive and then is nearly run over by the man who has taken them, Scott Gentry, who mistakenly thought this little trick would be a charming way to get her attention. Barely appeased by Scott's apologies, Jill goes home only to find another surprise on her doorstep: Evie, Jill's long-lost sister, a young woman whose addiction-filled, troubled life can only bring harm to the infant in her arms. Yet, Jill is hardly relieved when Evie disappears the next morning, leaving baby Shiloh in Jill's inexperienced care, and a whole lot of trouble at her door. Within three days, Jill wonders if chocolate will ever be enough to bring balance to her life again. Granted temporary custody of the child, Jill launches a determined search for Evie and begrudgingly accepts Scott's help and support. As Scott stumbles, crashes, and falls into Jill's guarded world, he finds himself willing to do anything for the woman he discovers is not made of stone but of strength. But just as guarded hearts begin opening to sweet new possibilities, Evie's trail leads Jill and Scott into harm's way, bringing wounds that only grace can heal.
This book was sent to Compass Book Ratings for review by Covenant Communications
Of Grace and Chocolate
by Krista Lynne Jensen
Overall Review:
The term "brainless romance," often applied to LDS romance novels does not apply to Of Grace and Chocolate in any way. The book's depth is what creates its beauty. The plot is complicated and centers around real world issues. When Jillian is left with a baby to raise on her own, and the burden of searching for the child's mother, nothing is easy, but Of Grace and Chocolate shows readers how to find love and strength during difficult times.
As a teenager, Jillian found escape from her alcoholic mother in Scott Gentry during a trip to Costa Rica. It is not as easy to trust him for the second time when they are re-united as adults and she is hiding from people who very well may want to kill her or the baby she is taking care of.
Of Grace and Chocolate is an emotional book to read. It has the thrills of a robbery and car chase and the tears of losing a sister to the world of drugs. It has romance and the love of a father for his daughter. Magically spun together, this book creates a must read for adults who understand the cruelties of the world and want to read something that portrays things as they are.
I loved this book and look forward to reading other Krista Lynne Jensen books in the future!
Content Analysis:
Profanity/Language: None
Violence/Gore: Two homes broken into and vandalized; several threats including verbal and written are issued; attempted kidnapping; man is punched in the nose; man is physically attacked; woman dies in a fight involving both a gun and a knife.
Sex/Nudity: Child is reportedly conceived out of wedlock; two adults live together; several kisses; man protectively holds a woman
Mature Subject Matter:
Abandonment, Death of a family member, Separation, Child abuse, Alcohol addiction, Partner infidelity, Robbery/Theft; Murder, Illegal drugs, Underage drinking.
Alcohol / Drug Use:
Teenagers drink at a party. Two adults are involved in a drug deal. Boyfriend drinks beer. Girl obtains drugs from a dealer and uses them.
Reviewed By Megan