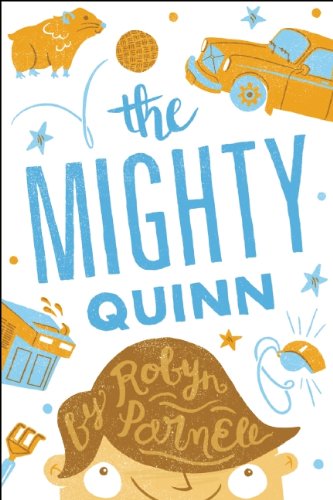 Publisher's Note:
Quinn Andrews-Lee feels anything but mighty, and faces a dismal school year. His little sister outshines him athletically and socially, he yearns for a service award his peers disdain, and charismatic bigot Matt Barker's goal in life is to torment Quinn and lure his friends to the dark side. When Quinn reports an act of vandalism, he is accused of injuring Matt. Neally Standwell, a free-spirited new kid in Quinn's class, helps Quinn deduce who hurt Matt, but Matt would probably die—and would definitely lie—before admitting the truth.

Through events comical and poignant Quinn and Neally solve the right mystery just as everything seems to go wrong, thwart a bully without becoming one in turn, and realize that the fabled ability to belch the entire alphabet might very possibly trump any award ever presented at Turner Creek School.
This book was sent to Compass Book Ratings for review by Scarletta Press
The Mighty Quinn
by Robyn Parnell
Overall Review:
THE MIGHTY QUINN by Robyn Parnell is published by Scarletta Publishers whose goal is to provide "exciting plots, educational twists, and literacy." THE MIGHTY QUINN displays all of these components.
The plot centers on the relationships between fifth-grade students at Turner Creek School in Hillsboro, Oregon. The themes touch on bullying, tolerance, and conservation, but the most engaging element of the novel is its characters.
If you have experienced the fifth grade on any way, i.e. student, parent, grandparent, or teacher, you will recognize all the signs of that age group in the book's characters. Quinn Andrews-Lee, one of the main personalities, is just trying to survive the year amid his own insecurities with himself and his loyal and not-so-loyal friends. Looming over all Quinn's anxieties is Matt Barker, a pastor's son, who is willing to sink to any level to make Quinn's life miserable. When the new student Neally Standwell arrives on the scene, life at Turner Creek School begins to change because Neally is not only smart and a true friend, she is fearless.
Ms. Parnell has included discussion questions at the end of the book which could be used in a class setting but easily adapted to a parent/child discussion. At the beginning of the novel, there is also a graphic depiction of the numerous characters.
There is only one element about the novel that did not settle well with me. The characters are well developed but Neally Standwell and her family are just too good to be true. They are models for raising children with independence and unique learning experiences; the father is not the breadwinner but is a nurturer and has time to volunteer in the school and community; all of them practice those things that are environmentally correct besides being honest and fair and knowing exactly what to say in every situation. This book is meant to educate but the perfection of this family was just a bit too much for me.
Young readers of THE MIGHTY QUINN will enjoy the drama, the victories, the humor, and the surprising conclusion. Adults will applaud the themes that are so timely in every American classroom.
Content Analysis:
Profanity/Language: None
Violence/Gore: Character purposely trips another student; character hits another to provoke a fight; character displays evidence of physical abuse.
Sex/Nudity: None
Mature Subject Matter:
Social Issues--racial, religious; child abuse.
Alcohol / Drug Use:
None
Reviewed By Marilyn