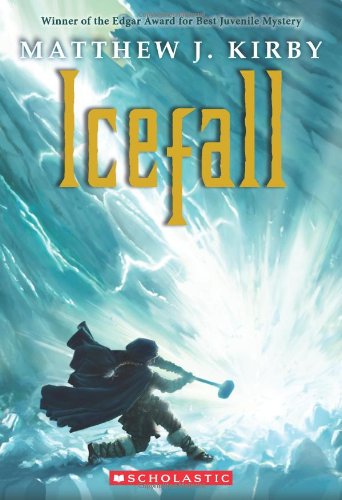 Publisher's Note:
Critically acclaimed author Matthew J. Kirby deftly weaves a stunning coming-of-age tale with chilling cleverness and subtle suspense that will leave readers racing breathlessly to the end.

Trapped in a hidden fortress tucked between towering mountains and a frozen sea, Solveig--along with her brother the crown prince, their older sister, and an army of restless warriors--anxiously awaits news of her father's victory at battle. But as winter stretches on, and the unending ice refuses to break, terrible acts of treachery soon make it clear that a traitor lurks in their midst. Solveig must also embark on a journey to find her own path. Yet, a malevolent air begins to seep through the fortress walls, as a smothering claustrophobia slowly turns these prisoners of winter against one another.

Those charged with protecting the king's children are all suspect, and the siblings must choose their allies wisely. But who can be trusted so far from their father's watchful eye? Can Solveig survive the long winter months and expose the traitor before he manages to destroy a kingdom?
This book was sent to Compass Book Ratings for review by Scholastic
Icefall
by Matthew J. Kirby
Overall Review:
Icefall, by Matthew J. Kirby, is a fully engaging and suspenseful story of a young Scandinavian princess who finds her true self when all else fails. Solveig is a likeable heroine: brave and compassionate but uncertain of her own worth; her story of self-discovery is woven around trials of hunger, betrayal and direct confrontation with the enemy, keeping it fast-paced and interesting throughout. All the characters are well-rounded and likeable. Kirby makes each one believable and human through Solveig's own discoveries and love of the people around her--thus making the question of the traitor's identity a nagging but satisfying puzzle. The Vikings are often portrayed as heartless invaders, but here we get a closer look at their love, loyalty, bravery, culture and strength. Kirby also opens the imagination to the lands of ice and snow with their tall mountains, groaning glaciers, and breathtaking fjords. A complete tale of love, loss and everything in between, all wrapped into a seamless whole.
Content Analysis:
Language/Profanity: None
Violence/Gore: A character's punishment is implied by resultant bruises and limp; a character is struck with a sword; a pet goat is butchered; brief description of brawls; men are poisoned and killed; battle fury is described and several characters are killed; a character is shot with arrows; minor descriptions of battle wounds; corpses from a flood are briefly described.
Sex/Nudity: A character's comment to a young woman is described as inappropriate; a character receives unwelcome attention and an arm around the shoulders and a caress on the cheek.
Mature Subject Matter:
Death, War.
Alcohol / Drug Use:
None
Reviewed By Kristen