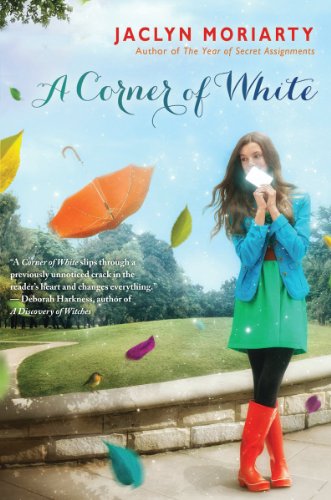 Publisher's Note:
The first in a rousing, funny, genre-busting trilogy from bestseller Jaclyn Moriarty!

This is a tale of missing persons. Madeleine and her mother have run away from their former life, under mysterious circumstances, and settled in a rainy corner of Cambridge (in our world).

Elliot, on the other hand, is in search of his father, who disappeared on the night his uncle was found dead. The talk in the town of Bonfire (in the Kingdom of Cello) is that Elliot's dad may have killed his brother and run away with the Physics teacher. But Elliot refuses to believe it. And he is determined to find both his dad and the truth.

As Madeleine and Elliot move closer to unraveling their mysteries, they begin to exchange messages across worlds -- through an accidental gap that hasn't appeared in centuries. But even greater mysteries are unfolding on both sides of the gap: dangerous weather phenomena called "color storms;" a strange fascination with Isaac Newton; the myth of the "Butterfly Child," whose appearance could end the droughts of Cello; and some unexpected kisses...
This book was sent to Compass Book Ratings for review by Arthur A. Levine (A Scholastic Imprint)
A Corner of White
by Jaclyn Moriarty
Overall Review:
A Corner of White by Jaclyn Moriarty is book 1 in The Colors of Madeleine Series. The book alternates between contemporary Cambridge, England and a different world referred to as the Kingdom of Cello. The Kingdom of Cello is remarkably similar to the contemporary world, but with a few, random fantasy elements sprinkled in. The most substantial fantasy element was the concept of rogue colors, but this aspect, sadly, was never fully explored. The main characters, Madeleine and Elliot, communicate via written correspondence (loved the old-fashioned, pen pal concept!) through a crack between the two worlds.
The first part of the book drug due to peripheral, unnecessary characters and an abundance of brief, random young adult dialogue and scenes that failed to move the plot and weren't critical in building characters. However, at about the three-quarters mark, Moriarty sheds these short-comings; the characters become more interesting and empathetic, the plot begins to click, and there are some neat plot twists that bring the novel to a strong conclusion and set-up for the next novel.
Content Analysis:
Profanity/Language: 10 mild obscenities; 1 scatalogical word; 9 anatomical terms.
Violence/Gore: Report of a death; report of an attack with mention of ripped flesh; character recalls following trail of blood to a relative's body (no details); report of broken bone; accident resulting in a broken bone; coroner's report on injuries and possible causes of death (some detail); a character has some violent thoughts towards other characters; brief description of Newton sticking needle in eye as an experiment; a chase scene with destruction of property; kidnapping.
Sex/Nudity: Various characters kiss a few times; thoughts about holding hands, touching hair; reference to affairs; speculation on a married character having an affair; passing, joking reference to sex and sex parties; a character asks about position on sexual freedoms and gay rights; a character sits in another character's lap as they kiss; a character changes clothes while another character turns away; a reference to a his lost love (male) by another male.
Mature Subject Matter:
Child abduction, parental disappearance, addiction, running away, illness, economic distress.
Alcohol / Drug Use:
References to drinking a pint and whiskey. Implied teenage drinking. A joke about getting blitzed/loaded/tanked. A teenager smokes a cigarette. An adult is addicted to alcohol and drugs. A character confesses to doing drugs, drinking, and partying when she turned 13.
Reviewed By Cindy