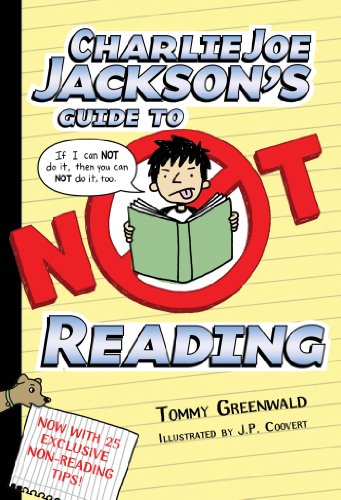 Publisher's Note:
Charlie Joe Jackson may be the most reluctant reader ever born. And so far, he's managed to get through life without ever reading an entire book from cover to cover. But now that he's in middle school, avoiding reading isn't as easy as it used to be. And when his friend Timmy McGibney decides that he's tired of covering for him, Charlie Joe finds himself resorting to desperate measures to keep his perfect record intact.
Charlie Joe Jackson's Guide to Not Reading by Tommy Greenwald is the hilarious story of an avid non-reader and the extreme lengths to which he'll go to get out of reading a book.
Charlie Joe Jackson's Guide to Not Reading
by Tommy Greenwald
Overall Review:
Charlie Joe Jackson's Guide to Not Reading by Tommy Greenwald starts out as just that--a guide or self-help book on how middle school students can avoid reading. Narrative passages are intermingled with handwritten notes on lined paper, comic-style illustrations, and lists of tips. At first glance the book appears to be another Diary of a Wimpy Kid-style book. True, there is some common DNA there: under-achieving middle school student in typical middle school setting punctuated with pictures. However, there are some divergences, too. There is a lot more prose and the quality of writing is definitely up a notch. Also, this is a book about middle-schoolers that actually feels like it is targeting middle school readers rather than elementary school readers. The main character, Charlie Joe, doesn't feel like a juvenile delinquent. He likes his family (how refreshing) and is surrounded by friends that are somewhat diverse and substantial, compared to the typical characters in this genre/style. Named for his sons--Charlie, Joe, and Jack--author Tommy Greenwald wrote this book for kids who don't like to read and I enjoyed some of his humor on the subject.
Content Analysis:
Profanity/Language: 5 religious exclamations; 3 mild obscenities.
Violence/Gore: Verbal threat; description of the Beatles Dead Baby Album Cover.
Sex/Nudity: Flirting; girls called "hot"; character kisses another character; a passing observation by a character suggesting they drop the "Sex Education" class; characters like other characters; student observes that a teacher is nice-looking.
Mature Subject Matter:
None
Alcohol / Drug Use:
None
Reviewed By Cindy