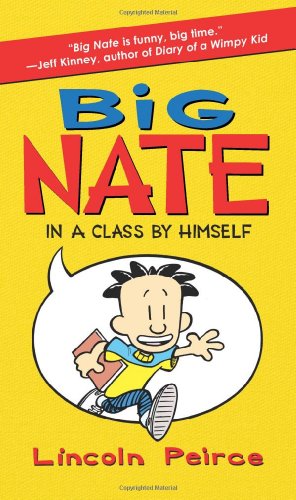 Publisher's Note:
Big Nate is in a class by himself!
But things don't always go your way just because you're awesome.
Nate barely survives his dad's toxic oatmeal before rushing off to school—minus his lunch.
He body slams the no-nonsense principal.
He accidentally insults his least favorite teacher, the horrifying Mrs. Godfrey (aka Godzilla).
And school has barely started!
Nate keeps his cool. He knows he's destined for greatness. A fortune cookie told him so.
For fans of the ever popular, ever hilarious Diary of a Wimpy Kid series: Get ready to meet Big Nate.
Big Nate: In A Class By Himself
by Lincoln Peirce
Overall Review:
Big Nate: In a Class By Himself by Lincoln Peirce is the wildly popular and New York Times Best Selling first book in a series. These books follow in the footsteps of the comic novella style popularized by the Diary of a Wimpy Kid series. In this case though, Big Nate was already a syndicated comic strip before he was utilized in the book. The book inserts comic strip drawings amid narrative and some other illustrations. The book's characters are middle-schoolers, but the target audience is elementary students. Nate is an underachiever with all the cliche middle-schooler traits and attitudes. The story follows a single school day and has a meager and transparent plot. The artwork is catchy and as shown by the sales figures, it proves irresistible to kids.
Content Analysis:
Profanity/Language: None
Violence/Gore: Verbal threat to punch; the following events portrayed in comical fashion--character slips and falls, characters whack each other with books, a character gets a pie smashed in his face.
Sex/Nudity: Comic-style picture of characters kissing
Mature Subject Matter:
None
Alcohol / Drug Use:
None
Reviewed By Cindy