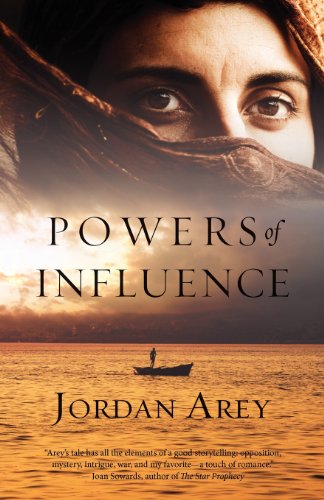 Publisher's Note:
When John wakes on the shores of Caprecia, he realizes that something is terribly wrong. Having been discovered and awoken by kind and caring strangers, he comes to find that not only is he nearly paralyzed and unable to talk, but his memory has failed him as well. Eventually overcoming the phenomenon that left him physically impaired, John learns from those who take him in that he isn't alone in his strange circumstances. Confronted with the truth that everyone around him is as lost as he is, John strives to regain his identity and the connection he has to the face of a woman seen in his dreams. However, finding himself in a colony of supposed shipwrecks fraught with the danger of impending war makes his search no small task.
This book was sent to Compass Book Ratings for review by Homebound Publications
Powers of Influence
by Jordan Arey
Overall Review:
Powers of Influence by Jordan Arey is a work of fiction. Some may deem it science fiction, but to categorize it more fittingly, I would say it is an allegory for life and what lies beyond. The reader is shown a civilization made up of people who have no memory of where they came from and therefore many of life's pressing questions fuel the storyline. The reader is taken along for the ride as the main character, John, risks everything to find answers to questions like: 'Where did I come from?' and 'Why am I here?' The answers he finds ring true as if something inside of him remembers things he cannot. He learns bit by bit who he can trust and what he is supposed to accomplish next.
A very interesting element of the story is seeing modern technology through John's eyes. His experiences are of a place where travels are accomplished by horse and car, and he has few resources to draw upon to describe machines powered by engines. The author artfully employs his powers of description and conveys a sense of wonder as John comes in contact for the first time with things like cars and helicopters. This novel has mystery and romance, along with a healthy dose of action, but my favorite part is that it really makes you think.
Content Analysis:
Profanity/Language: None
Violence/Gore: A few verbal threats; stories told of a past war; a report of a man badly beaten; one extended scene wherein a man's arm is cut off, another person is whipped, and an animal is killed; a few non-detailed scenes of violent death; one more detailed death scene involving blood.
Sex/Nudity: A man and woman kiss.
Mature Subject Matter:
War, death of family members.
Alcohol / Drug Use:
None
Reviewed By Ambra