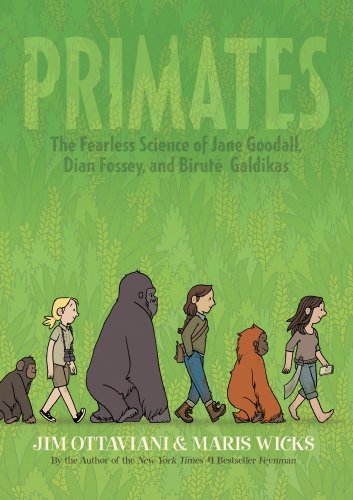 Publisher's Note:
Jim Ottaviani returns with an action-packed account of the three greatest primatologists of the last century: Jane Goodall, Dian Fossey, and Biruté Galdikas. These three ground-breaking researchers were all students of the great Louis Leakey, and each made profound contributions to primatology—and to our own understanding of ourselves. Tackling Goodall, Fossey, and Galdikas in turn, and covering the highlights of their respective careers, Primates is an accessible, entertaining, and informative look at the field of primatology and at the lives of three of the most remarkable women scientists of the twentieth century. Thanks to the charming and inviting illustrations by Maris Wicks, this is a nonfiction graphic novel with broad appeal.
This book was sent to Compass Book Ratings for review by First Second Books
Primates: The Fearless Science of Jane Goodall, Dian Fossey, and Birute Galdikas
by Jim Ottaviani
Overall Review:
Primates is a fun, simple way to learn more about three women that pioneered the scientific study of these fascinating animals. It held my attention, taught me quite a few things, and whetted my appetite for more about Jane Goodall, Dian Fossey, and Birute Galdikas.
Young people who love animals, science, ecology, or women's rights will all enjoy this graphic novel that delves surprisingly deeply into each issue. I felt empowered and in awe of these women and all that they accomplished in a time when women had very few career options available to them. They were brave and tenacious, yet tender-hearted enough to take the animals they studied into their hearts and protect them with all they had.
I recommend Primates as a great appetizer for teens--but be prepared with additional books on the subject--you'll definitely want more!
Content Analysis:
Profanity/Language: 1 religious exclamation.
Violence/Gore: A character accidentally cuts leg with machete--very little blood.
Sex/Nudity: Innuendo--it is indirectly suggested that a character is regularly unfaithful to spouse; a character is seen running through the jungle naked with no private parts visible; a character is seen naked while receiving treatment for a skin condition with no private areas visible.
Mature Subject Matter:
Divorce, minor harrassment, poaching.
Alcohol / Drug Use:
Adults are shown drinking alcohol in a social situation.
Reviewed By Leslie