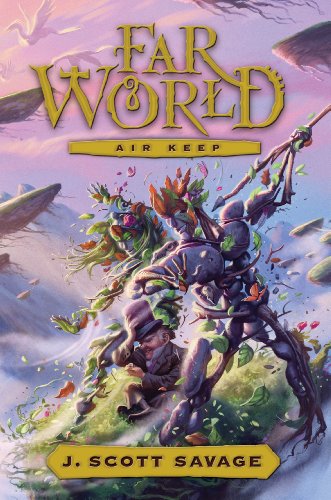 Publisher's Note:
The adventure continues... It s been six months since Marcus and Kyja obtained the help of the land and water elementals. But before they can get help from the mysterious air elementals they have to figure out how to open a box with no key. Together, Marcus and Kyja travel into the Is, the Was, the Will Be, and the Never Was as they try to open the box, save their city, free Land Keep and Water Keep from water and land elementals who have joined the Dark Circle. Marcus still has to find a way to change the future, and save Kyja s life, but there s a catch; any changes they make in the Abyss of Time may destroy the doorway, trapping them forever... Even with his physical disability, Marcus is able to accomplish great things. It is a story of determination and friendship, and of having the courage to make those hard decisions.
This book was sent to Compass Book Ratings for review by Deseret Book
Air Keep
by Jeff Scott Savage
Overall Review:
J. Scott Savage continues his Farworld series with Air Keep. Those familiar with the series get to jump right in and follow Kyja and Marcus on more exciting adventures. Savage has a short summary of the previous two books which are clearly marked so readers anxious to get started and pick up the story where book two ended know right where to go. If you have not picked up the previous books in the series, it is advisable to begin at the beginning.
Air Keep takes on a slightly different timeline than either of the previous books thus keeping readers unsure of events. Many of the interesting characters from previous books resurface here. There are also some new ones. Some of the most enjoyable segments of the book happen when Marcus and Kyja find themselves back on Earth. Fun characters and events always seem to follow this relocation. Many clues and hints are dropped about the loyalties of various characters, but readers are still left unsure about whom they should trust.
As the final installment of the series has not yet been published, it should be noted that a great many questions are left unanswered and the conclusion of Air Keep does little to quell the curiosities. Indeed, it might even be fair to say the book creates even more uncertainties. Enjoy all Farworld has to offer, but be prepared for a bit of cliff hanging at the end.
Content Analysis:
Profanity/Language: None
Violence/Gore: Report of characters killing an entire town; several multi-page battles, mostly involving magic and destruction of objects, brief references to bleeding wounds; characters have close encounters with dangerous creatures, including bites, scratches and magic; character hits another with objects; characters kick, grab and throw others; character impales creature with sword.
Sex/Nudity: Character imagines disrobing to wade in ocean, not graphic; non-married characters embrace and kiss on cheek; married characters kiss.
Mature Subject Matter:
Death of friend, loyalty.
Alcohol / Drug Use:
None
Reviewed By Susan