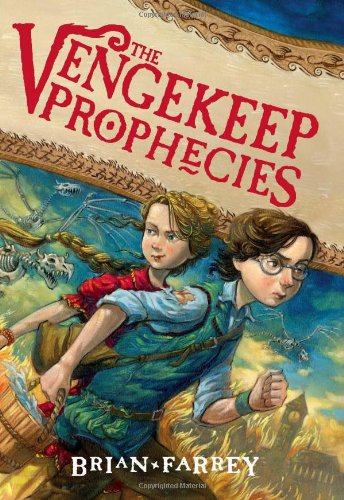 Publisher's Note:
Enk vessara, enk talmin.
You can't convict what you can't confirm.
Jaxter Grimjinx is a born thief. At least, he's supposed to be. For generations, the Grimjinx clan has produced the swiftest, cleverest thieves in Vengekeep.
The problem is, Jaxter is clumsy. So clumsy that in his first solo heist, he sets the Castellan's house on fire and lands his family in the gaol. Even Jaxter's skill for breaking magical locks can't get them out of this bind.
Then a suspiciously convenient prophecy emerges naming the Grimjinx clan as the soon-to-be heroes of Vengekeep. It's good enough to get his family out of the gaol, but with a firestorm, a flood, and a host of skeletal beasts among the dangers listed in the prophecy, Jaxter is pretty sure a life in the gaol would be a better fate.
Now—like it or not—Jaxter Grimjinx will have to become the hero he was truly born to be.
The Vengekeep Prophecies
by Brian Farrey
Overall Review:
The Vengekeep Prophecies is an exciting, and successful, foray into middle grade fantasy. Its characters are interesting, if not fitting the standard mold for this genre. But what really makes Vengekeep shine is the fantasy world that the author, Brian Farrey, creates. It is purely fantasy, filled with multiple exotic races, strange royals, and characters with intentions unknown. The wonderful thing is that since many of the characters are thieves and of untrustworthy nature, the level of Machievellen politics and actions is fairly sophisticated for a middle grade novel. Overall, a great way to intoduce middle grade readers into the fantasy genre!
Content Analysis:
Profanity/Language: None
Violence/Gore: There are several instances of cartoon mischief/violence, including but not limited to blinding powder and harmless electical shocks. Several characters are threatened with death or jail; there are multiple instances of destruction of property involving but not limited to explosions and fire. There are several battle and chase scenes involving swords, axes, bows and fists. There are also several scenes of violence involving bird-people and resurrected skeletons. Violence and deaths are also reported.
Sex/Nudity: None
Mature Subject Matter:
Illegal practices such as burglary, identity theft, and fraud.
Alcohol / Drug Use:
None
Reviewed By Jackson