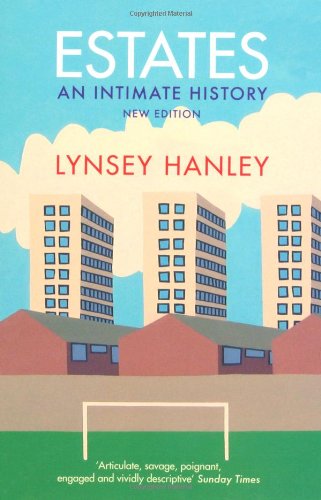 Publisher's Note:
Lynsey Hanley was born and raised just outside of Birmingham on what was then the largest council estate in Europe, and she has lived for years on an estate in London's East End. Writing with passion, humour and a sense of history, she recounts the rise of social housing a century ago, its adoption as a fundamental right by leaders of the social welfare state in the mid-century and its decline - as both idea and reality - in the 1960s and '70s. Throughout, Hanley focuses on how shifting trends in urban planning and changing government policies - from Homes Fit for Heroes to Le Corbusier's concrete tower blocks, to the Right to Buy - affected those so often left out of the argument over council estates: the millions of people who live on them. What emerges is a vivid mix of memoir and social history, an engaging and illuminating book about a corner of society that the rest of Britain has left in the dark.
Estates: An Intimate History
by Lynsey Hanley
Overall Review:
Lynsey Hanley's Estates: An Intimate History is an eye-opening book about the history of social housing in Britain and how it is treated today. Hanley explains how these government built houses came about and how the original plans to build 'homes for heroes' and a house that a person could be proud of, were in many cases lost in money-saving moves and social ghettoization as these homes were built far away from both private housing and public amenities.
Hanley indeed describes council estates as "class ghettoes, places where few middle-class people aside from those who are paid to do so ever venture". Hanley herself grew up on a council estate and writes sympathetically about all aspects of life there. Hanley asks why, in a country with free universal healthcare, free education and an envied system of state benefits, the poorest people can still slip through the net "to a place so low that teams of social workers, teachers, counsellors and mentors have immense difficulty in pulling them back up."
This was a very important and interesting read for me. I realised how little I knew about life on council estates and this has made me change the way I think about them permanently.
Content Analysis:
Profanity/ Language: 1 scatological term, 2 F-word derivatives (all reported speech)
Violence/ Gore: Description of a violent act (from a newspaper article), destruction of property.
Sex/Nudity: None
Mature Subject Matter:
Socioeconomic conflict, racial conflict, unemployment, homelessness.
Alcohol / Drug Use:
Alcohol and cigarettes are mentioned.
Reviewed By Ailsa