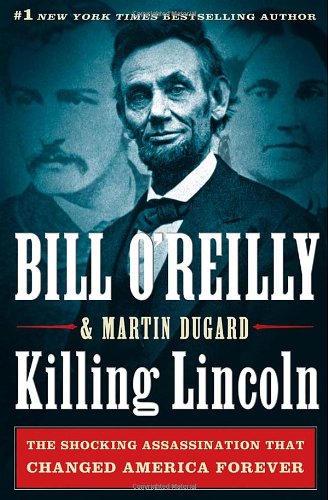 Publisher's Note:
A riveting historical narrative of the heart-stopping events surrounding the assassination of Abraham Lincoln, and the first work of history from mega-bestselling author Bill O'Reilly
The anchor of The O'Reilly Factor recounts one of the most dramatic stories in American history—how one gunshot changed the country forever. In the spring of 1865, the bloody saga of America's Civil War finally comes to an end after a series of increasingly harrowing battles. President Abraham Lincoln's generous terms for Robert E. Lee's surrender are devised to fulfill Lincoln's dream of healing a divided nation, with the former Confederates allowed to reintegrate into American society. But one man and his band of murderous accomplices, perhaps reaching into the highest ranks of the U.S. government, are not appeased.
In the midst of the patriotic celebrations in Washington D.C., John Wilkes Booth—charismatic ladies' man and impenitent racist—murders Abraham Lincoln at Ford's Theatre. A furious manhunt ensues and Booth immediately becomes the country's most wanted fugitive. Lafayette C. Baker, a smart but shifty New York detective and former Union spy, unravels the string of clues leading to Booth, while federal forces track his accomplices. The thrilling chase ends in a fiery shootout and a series of court-ordered executions—including that of the first woman ever executed by the U.S. government, Mary Surratt. Featuring some of history's most remarkable figures, vivid detail, and page-turning action, Killing Lincoln is history that reads like a thriller.
Killing Lincoln: The Shocking Assassination that Changed America Forever
by Bill O'Reilly and Martin Dugard
Overall Review:
New York Times Bestselling Killing Lincoln is a thrilling read. Authors Bill O'Reilly and Martin Dugard take what we all know -- that the beloved American President Abraham Lincoln was killed by the fiendish John Wilkes Booth -- and venture deeper, presenting fascinating and little-known tidbits about the assassination. The writing duo both entertains and educates with a fast pace, easy readability and pleasing layout. Readers may especially enjoy the conspiracy theories regarding the event (Did you know there is controversy surrounding Lincoln's passing? I sure didn't!) Upon finishing Killing Lincoln, I found myself sharing and enjoying much of my newly acquired historical knowledge with family and friends.
Content Analysis:
Profanity/Language: 5 religious exclamations, 15 mild obscenities, 6 religious profanities, 3 derogatory names
Violence/Gore: Threatening letters are sent to the president; numerous reports of violence come from the battlefield; numerous incidents of violence including a pistol whipping, being thrown from a carriage, shot and fighting in battle. Destruction of supply wagons and cities take place. Multiple non-detailed scenes of violent death occur in battle and from bombings. There is a few mentions of injuries involving blood and gore; numerous scenes of intense violence take place, including the Battle at Sayer's Creek and its close range fighting, the Seward attack, and Lincoln's assassination.
Sex/Nudity: Sexual references regarding concubines and slave rape; a few implied occurrences of sexual activity involving prostitutes and whorehouses; one brief mention of sexual activity without explicit details between adults.
Mature Subject Matter:
War, racial prejudice, racial inequality, death, assassination, slavery
Alcohol / Drug Use:
Frequent smoking and drinking
Reviewed By Rachel