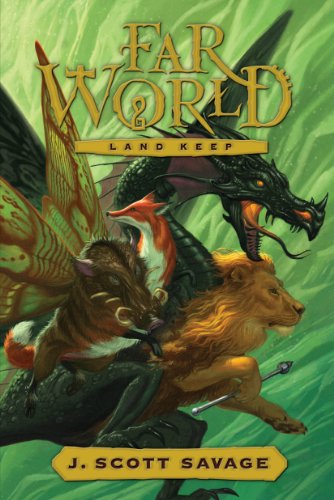 Publisher's Note:
Four mythical Elementals Water, Land, Air, and Fire have the power to save two worlds, Earth and Farworld, from a common enemy: the Dark Circle. In book one, Water Keep, Marcus, a disabled boy from Earth, and Kyja, a girl with no magic from Farworld, begin their epic quest to find the Elementals before it is too late. In book two, Land Keep, Marcus and Kyja travel with Cascade, a Water Elemental, toward Land Keep, the home of the powerful and wise Land Elementals. However, their journey may end before it even begins. Land Keep is empty, deserted for at least a thousand years, and the rumor is that the creatures who once controlled all land magic are extinct. Marcus and Kyja s only hope seems to lie in finding the Augur Well, a legendary Oracle protected by subtle traps and mind-bending trials. To succeed in their quest, Marcus and Kyja must also avoid the Keepers of the Balance, an order dedicated to redistributing magic to the rich and powerful. And they must travel far underground, where Cascade is unable to follow and where they will be unable to leap to the safety of Earth. As the Dark Circle closes around them, Marcus and Kyja are faced with the temptation of what they desire most. Sacrifices must be made, and not everyone will survive unscathed.
This book was sent to Compass Book Ratings for review by Deseret Book
Land Keep
by Jeff Scott Savage
Overall Review:
Once again, the Far World series produces a terrific cover for Land Keep, the second book in the series by J. Scott Savage. Those who enjoyed the previous book will find more of the same type of fantasy. Interesting characters appear and mysteries are partially solved. This is not a standalone book and readers should be prepared for unanswered questions and not a lot of rehashing of material from the previous story...thank you, Mr. Savage.
This story certainly keeps the reader guessing. Just when it seems everything is resolved, more intrigue and questions arise. Some characters prove to be more trustworthy than others and the author does a great job of making it hard to know the difference.
The order of events in this book differs from the first one and as such, it adds surprising elements. Don't expect any more elaboration than this, because it would ruin the story. Anyone who liked the previous book will enjoy this novel as well. Those unfamiliar, but intrigued should pick up Water Keep and join the sundry characters in their adventures in Far World.
Content Analysis:
Profanity/Language: None
Violence/Gore: Characters grab, bite, hit, shove and kick one another; report of character slitting another's throat; characters set people and objects on fire with magic; characters use magic to cause pain; characters threaten to kill another; characters threaten and injure others with knives and swords; report of blood pouring from wounds; characters battle, two pages.
Sex/Nudity: Non-married characters embrace and kiss on cheeks and lips.
Mature Subject Matter:
Death of friend
Alcohol / Drug Use:
None
Reviewed By Susan