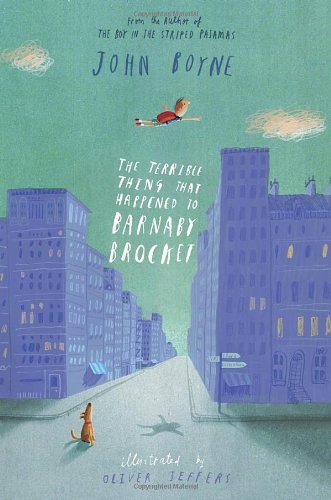 Publisher's Note:
Barnaby Brocket is an ordinary 8-year-old boy in most ways, but he was born different in one important way: he floats. Unlike everyone else, Barnaby does not obey the law of gravity. His parents, who have a horror of being noticed, want desperately for Barnaby to be normal, but he can't help who he is. And when the unthinkable happens, Barnaby finds himself on a journey that takes him all over the world. From Brazil to New York, Canada to Ireland, and even to space, the floating boy meets all sorts of different people—and discovers who he really is along the way.

This whimsical novel will delight middle graders, and make readers of all ages question the meaning of normal.
The Terrible Thing That Happened to Barnaby Brocket
by John Boyne
Overall Review:
The Terrible Thing that Happened to Barnaby Brocket by John Boyne starts out with a delightful premise: a boy who defies the law of gravity and floats. The opening reminds me a bit of the outlandishness of Roald Dahl's opening in James and the Giant Peach. There are a few winks and nods in Dahl's direction and some literary references sprinkled along the way. The language and the dialogue was charming. Unfortunately, after a strong opening, the book lost its way.
About a third of the way into the book, there seems to be a change in the storytelling style and Barnaby's adventures become somewhat normal (this is very ironic, given the book's theme). As a reader, this caused me to demand more realism (which wasn't there) and I must admit that I fell asleep twice while reading the book and debated whether it was worth my time to finish. Later in the book the fantastical elements were back, but for me, the magic had been lost for this and other reasons.
An age recommendation for this book was difficult to make. With an eight year-old protaganist, one would think it the audience should be young readers. However, some inferred topics and themes, such as an older lesbian couple and a young teenage girl who is apparently pregnant out of wedlock, appear a bit incongruent to that demographic. Alternately, the book becomes a bit soap box-y on the themes of "what is normal" and "being different is okay", which is a bit obvious for a more sophisticated reader.
If you are in the mood for the whimsical, you might try James and the Giant Peach.
Content Analysis:
Profanity/Language: 2 religious exclamations; 6 mild obscenities.
Violence/Gore: A character is abducted.
Sex/Nudity: It is implied that two characters are lesbian; it is implied that a character is pregnant out of wedlock; a character says that when he was a little boy he went through his mother's photographs looking for photos of models with their clothes off.
Mature Subject Matter:
Homosexuality, pregnancy out of wedlock, parental neglect/emotional abuse, parental endangerment of a child
Alcohol / Drug Use:
A character is drugged (unspecified drug) so that he might be kidnapped.
Reviewed By Cindy