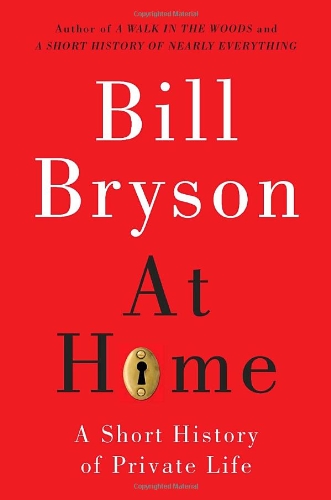 Publisher's Note:
From one of the most beloved authors of our time—a fascinating excursion into the history behind the place we call home. "Houses aren't refuges from history. They are where history ends up."

Bill Bryson and his family live in a Victorian parsonage in a part of England where nothing of any great significance has happened since the Romans decamped. Yet one day, he began to consider how very little he knew about the ordinary things of life as he found it in that comfortable home. To remedy this, he formed the idea of journeying about his house from room to room to "write a history of the world without leaving home." The bathroom provides the occasion for a history of hygiene; the bedroom, sex, death, and sleep; the kitchen, nutrition and the spice trade; and so on, as Bryson shows how each has fig­ured in the evolution of private life. Whatever happens in the world, he demonstrates, ends up in our house, in the paint and the pipes and the pillows and every item of furniture.

Bill Bryson has one of the liveliest, most inquisitive minds on the planet, and he is a master at turning the seemingly isolated or mundane fact into an occasion for the most diverting exposi­tion imaginable. His wit and sheer prose fluency make At Home one of the most entertaining books ever written about private life.
At Home: A Short History of Private Life
by Bill Bryson
Overall Review:
At Home by Bill Bryson is an interesting and eclectic history about how our everyday lives have changed or, in some cases, stayed the same over the last century and a half. The book describes things that you never stop to think about like the evolution of the chair and why pepper sits next to salt on the dinner table. The number of facts contained within its pages is staggering, and the way Bryson connects and weaves them together is truly artful. By walking the reader through each room of the house and not staying particularly confined to divulging only the history of that which can be found within its walls, Bryson explores various veins of history that shoot off in different directions. At time, he meanders a bit too far from the room he is supposed to be writing about, but he always manages to bring us back to his own Victorian parsonage and the year 1851 when it was built. In so doing, he gives the book organization and the reader a place to rest their minds from the whirlwind trip through the past.
This book is not for someone with a weak stomach. Bryson delves into the sewers and the low side of living as often as he explores cathedrals and the excessively rich. There is no denying that the history of humanity can get messy at times and Bryson doesn't try to sugarcoat it. He does however explore enough of humanity's frivolity to provide the book with a nice balance between the serious and the light side of living, making At Home a perfect read for any adult with an inquiring mind.
Content Analysis:
Profanity/Language: A few anatomical terms.
Violence/Gore: Second-hand reports of a man being beaten and a women being whipped; a description of a medical procedure done without anesthetic; second-hand reports of murder; a man is blinded by his co-workers; a few second-hand reports of violence against children.
Sex/Nudity: Two non-sexual depictions of nudity; several references to extramarital affairs as well as other implied sexual activity; a couple of brief sexual references; one extended description of how people in the Victorian period viewed sex, as well as "self-abuse;" sexually transmitted diseases are mentioned.
Mature Subject Matter:
Illegitimate children, homosexuality.
Alcohol / Drug Use:
Wine mixed with drugs given before medical procedure; wine is mentioned as a drink with dinner.
Reviewed By Ambra