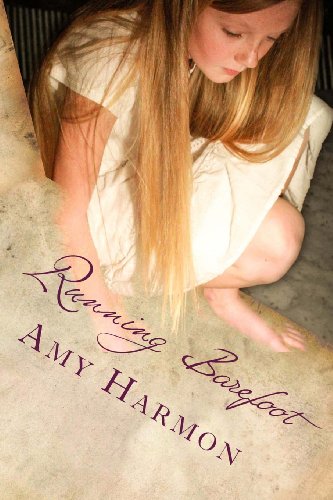 Publisher's Note:
When Josie Jensen, an awkward 13-year-old musical prodigy crashes headlong into new-comer Samuel Yazzie, an 18-year-old Navajo boy full of anger and confusion, an unlikely friendship blooms. Josie teaches Samuel about words, music and friendship, and along the way finds a kindred spirit. Upon graduation, Samuel abandons the sleepy, small town in search of a future and a life, leaving his young mentor behind. Many years go by and Samuel returns, finding his old friend in need of the very things she offered him years before. Their roles reversed, Samuel teaches Josie about life, love, and letting go. Deeply romantic and poignant, Running Barefoot is the story of a small town girl and a Native American boy, the ties that bind them to their homes and families, and the love that gives them wings.
This book was sent to Compass Book Ratings for review by the Author
Running Barefoot
by Amy Harmon
Overall Review:
Josie Jo is an incredible girl. Old fashioned (in a good way), passionate and kind, but she stays to herself for the most part so not many people get to know her and her amazing qualities. A lot can be learned from her as you see how she responds to and deals with some seriously devastating trials in her life. You'll also enjoy an unusual friendship and a sweet love story, but on top of that you'll learn about classical music and gain an appreciation for the U.S. Marine Corp and Native American culture which are all tied together nicely in this diverse novel. Amy Harmon is clearly passionate about these subjects and she conveys that well in her writing. If you've ever lived in or near a small town, then you need to read this book as you will frequently find yourself smiling from nostalgia. If you've never lived in or near a small town, you need to read this book so you can see life in a small town and learn to appreciate the good and the bad that may come with it. I found myself up late reading this and when I wasn't reading, I couldn't wait to pick it up again. Running Barefoot is highly recommended!
Content Analysis:
Profanity/Language: 1 religious exclamation; 8 mild obscenities; 2 scatalogical words; 1 anatomical term.
Violence/Gore: Several (17) brief instances including war mentioned; a bible story mentioned about husband getting killed and child dying; characters dying; story from a book about someone plotting to murder someone and child dying; teenager fighting stepdad; man hitting wife; character pushing another character; movie of character getting thrown into a wall; goat killed to be eaten; things being blown up in a movie.
Sex/Nudity: Many (57) brief instances including kissing; touching face, shoulders, waist, hair; holding hands; hugging; character worrying about being naked in locker room; character removing clothing to take a bath; mention of puberty occurring and body parts enlarging as a result; song about possible implied sexual activity; rape only mentioned.
Mature Subject Matter:
Death from natural causes and accidents, Alzheimers, Stroke, Jail, Racism, Rape (report of).
Alcohol / Drug Use:
Parents drinking alcohol and getting drunk; drunk teenager; cigarettes mentioned.
Reviewed By Jenny