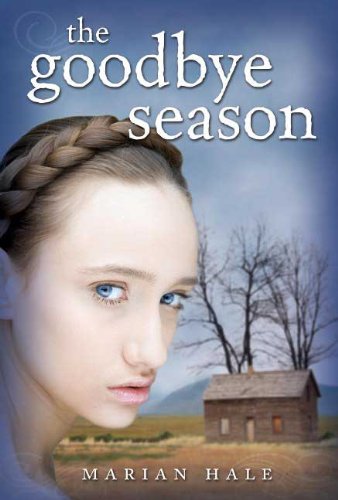 Publisher's Note:
Mercy Kaplan doesn't want to be like her mother, saddled with crying kids and failing crops for the rest of her life. Mercy longs to be on her own—until her wish comes true in the worst possible way. It is 1918 and a deadly flu epidemic ravages the country, leaving her utterly alone and penniless.
Mercy soon finds a job with Mrs. Wilder. But there's something unsettling about the woman, whose brother died under mysterious circumstances. And then there's Daniel, who could sweep a girl off her feet if she isn't careful.
The Goodbye Season
by Marian Hale
Overall Review:
The Goodbye Season by Marian Hale is a young adult novel that appeals to a wide audience. The author does a wonderful job of bringing the characters to life right from the start. This was very necessary to the story because there is a fair amount of death in the book and in order for the reader to identify with the sadness experienced by the main character, Mercy Kaplan, the characters must be missed when they are gone.
The pacing of Hale's novel is quite enjoyable. She moves the story along quickly with major events worked in among the goings on of everyday life. It is a pairing that takes more than a little talent as a writer. My only complaint is with the end of the book. I was left wanting more with no sequel in sight. It ends with what I would normally think of as a lead into the final climax of the book and had me turning the last pages with anticipation, not quite believing that there was no more story to be had. Although one might argue that leaving things to the reader's imagination isn't a bad thing, I normally like more closure than that.
This book offers a bit of historical fiction, a very innocent romance, and some mystery as well. All of this along with the poignant story of a teenage girl trying to find her place in the world definitely makes this book worth reading.
Content Analysis:
Profanity/Language: 2 mild obscenities.
Violence/Gore: A few second-hand reports of violence; one death by gunshot with mention of blood, but not graphically descriptive.
Sex/Nudity: None
Mature Subject Matter:
Death of family and friends.
Alcohol / Drug Use:
An adult drinks wine with dinner.
Reviewed By Ambra