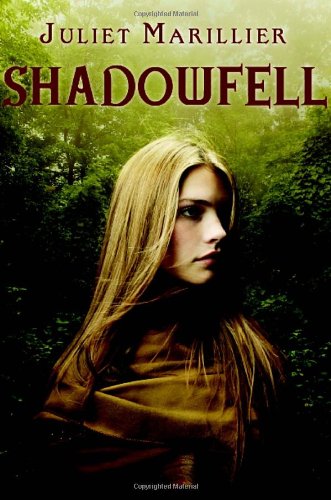 Publisher's Note:
Sixteen-year-old Neryn is alone in the land of Alban, where the oppressive king has ordered anyone with magical strengths captured and brought before him. Eager to hide her own canny skill--a uniquely powerful ability to communicate with the fairy-like Good Folk--Neryn sets out for the legendary Shadowfell, a home and training ground for a secret rebel group determined to overthrow the evil King Keldec.

During her dangerous journey, she receives aid from the Good Folk, who tell her she must pass a series of tests in order to recognize her full potential. She also finds help from a handsome young man, Flint, who rescues her from certain death--but whose motives in doing so remain unclear. Neryn struggles to trust her only allies. They both hint that she alone may be the key to Alban's release from Keldec's rule. Homeless, unsure of who to trust, and trapped in an empire determined to crush her, Neryn must make it to Shadowfell not only to save herself, but to save Alban.
This book was sent to Compass Book Ratings for review by Random House
Shadowfell
by Juliet Marillier
Overall Review:
Shadowfell begins as Neryn and her father are on the run to avoid being captured by wicked King Keldec. He's against anything even remotely connected to magic and will destroy anyone found capable of it--that is unless it's used for his purposes. Neryn has known from a young age that she has special abilities and now she's being chased for that very reason. Her treacherous journey of deception and discovery make for a captivating story. Throughout the story you frequently want to shout out to Neryn, telling her to do this or don't trust that person or to just listen! Of course if she did, that would make for a boring, short story. Marillier does a tremendous job of building characters with many layers, creating an attachment to them and adding suspense. This intriguing book is full of magic, deception, love and war. I can't wait to see where Marillier takes us in book two, Raven Flight!
Shadowfell is the first novel of a three-book series. Book two, Raven Flight is already available and the final book, Caller, is due to be published in 2014.
Content Analysis:
Profanity/Language: 43 religious exclamations (characters say "gods" in fantasy world).
Violence/Gore: Many (28) brief instances including implied occurrences of violence; verbal threats; character's family dying; second hand report of war; young character having to watch brother dying and grandmother tortured; fist fight; character dragged by hair; dog kicked; character getting strangled & dragged; character being chained up and receiving non-life threatening injuries; fantasy violence of characters being brain damaged through telepathic means; fantasy characters wounded & killed; animals dying, being killed and hunted; boat lit on fire with people on it; hanging & beheading. Few (2) extended instances including a non-detailed war scene; instance with creepy ghosts.
Sex/Nudity: Many (22) instances including holding arms and hand; walking arm in arm; touching back; cuddling and sleeping next to each other to keep warm; hug; touched face; kiss; women removing clothes for the purpose of bathing; imagining male character undressing female character with his mind; female character worried about what male characters would do to her; female character getting fondled.
Mature Subject Matter:
Character's family dies, lying.
Alcohol / Drug Use:
Characters drinking (similar to a bar scene); character getting drugged to force sleep.
Reviewed By Jenny