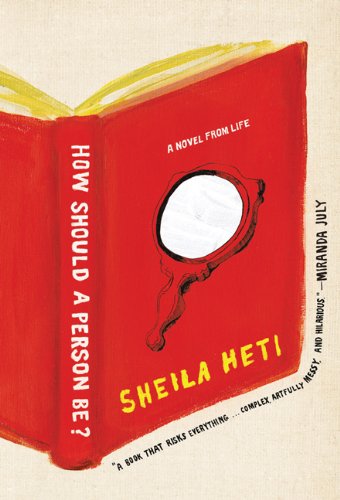 Publisher's Note:
Reeling from a failed marriage, Sheila, a twentysomething playwright, finds herself unsure of how to live and create. When Margaux, a talented painter and free spirit, and Israel, a sexy and depraved artist, enter her life, Sheila hopes that through close—sometimes too close—observation of her new friend, her new lover, and herself, she might regain her footing in art and life.
Using transcribed conversations, real emails, plus heavy doses of fiction, the brilliant and always innovative Sheila Heti crafts a work that is part literary novel, part self-help manual, and part bawdy confessional. It's a totally shameless and dynamic exploration into the way we live now, which breathes fresh wisdom into the eternal questions: What is the sincerest way to love? What kind of person should you be?
This book was sent to Compass Book Ratings for review by Random House
How Should a Person Be?
by Sheila Heti
Overall Review:
Sheila Heti's How Should a Person Be? is quite unlike any other book I've ever read. It's a fusion of meta-fiction and autobiography in which Heti uses a wide range of writing styles; play scripts, fragments of dialogue, emails and long swathes of confessional ranting.
The book centers around the search for meaning in life and asks what is for the best way to live and how to 'be'. The main avenues for exploration come from an intense friendship with an artist and a degrading affair with a sadistic man. This is an honest book and one where the author has left nothing to the imagination, it relishes in all the sordid details of the character's real life and also of her violent dreams and fantasies.
As a reader I love experimentation in literature and writers who aren't afraid to mix-genres and styles. However, this book was really not for me. I found the honest portrayal of the central character vacuous and narcissistic. Instead of being inspired by her search for meaning I was thankful that this woman was not someone I know. The sexual relations between Sheila and Israel are violent, demeaning and make very unpleasant reading. If you choose to read this book, please keep it out of reach of younger readers. The sexual scenes may scar them for life! This book had some interesting scenes and some new ideas but was overall not a reading experience I derived much pleasure or interest from. Proceed with caution.
Content Analysis:
Profanity/Language: 12 religious exclamations, 2 derogatory names, 26 scatological words, 15 anatomical terms, 44 F-word derivatives.
Violence/Gore: Three scenes where the sexual acts are very violent in nature and cause bruising and pain for the characters; a vivid violent dream is described in which many people die violent deaths.
Sex/Nudity: Many descriptions of nudity- some sexual; a woman accidentally exposes herself indecently to a child; pornography is refered to; many discussions regarding sex; many very detailed descriptions of abusive sexual practives (consensual but extremely degrading).
Mature Subject Matter:
Death, physical and sexual abuse, gender conflict.
Alcohol / Drug Use:
Adults drink and smoke throughout.
Reviewed By Ailsa