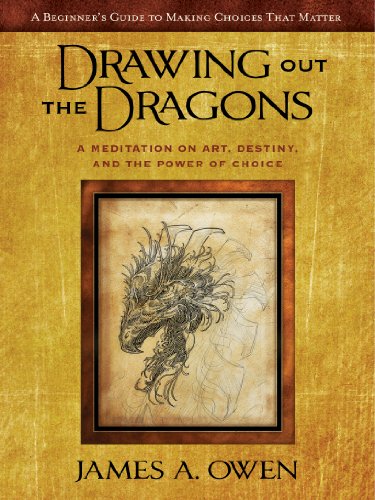 Publisher's Note:
I believe in you. You have a great destiny. You are meant for great things. And it s possible to live a wonderful, extraordinary life. That is the promise offered by bestselling author and illustrator James A. Owen in this remarkable and inspirational meditation. In Drawing Out the Dragons, James shares personal stories and the deep truths he learned while navigating past obstacles and adversity toward a life of lasting belief and joy. We all have a grand destiny, but sometimes we feel we lack the power to achieve it. But we always have the power to choose. Every drawing, every life, is nothing but a series of choices and actions. Make your lines. Make your choices. . . . What you create from there is entirely up to you. Drawing Out the Dragons has the power to uplift, inspire, and change your life.
This book was sent to Compass Book Ratings for review by Shadow Mountain
Drawing Out the Dragons: A Meditation on Art, Destiny, and the Power of Choice
by James A. Owen
Overall Review:
Drawing Out the Dragons by James A. Owen is a treasure chest full of cleverly worded gems of advice that the reader would do well to hold onto as they plot their journey through life. These gems are sprinkled throughout the chronicle of Owen's own journey. He truly puts his gift of storytelling to good use as he takes us through the years that saw an entrepreneurial six-year-old become a best-selling author. The life lessons Owen relates in this book are simple, yet profound and, as Owen himself points out, have cost him a great deal to learn. What gives his words such credence are the many brick walls he ran into while on his quest to fulfill his destiny. He surmounted each through determination, perseverance, and help from the many people throughout his life who believed in him.
Drawing Out the Dragons does refer to his wildly successful series The Chronicles of the Imaginarium Geographica, which he wrote and illustrated, however it is not necessary to have read the series to thoroughly comprehend what Owen is saying about the need to face our fears, believe in ourselves, and pursue our dreams with confidence. Entertaining and inspiring, this diminutive volume will have a big impact on the way readers view setbacks in their own lives. I highly recommend it.
Content Analysis:
Profanity/Language: None
Violence/Gore: None
Sex/Nudity: None
Mature Subject Matter:
Death of a family member
Alcohol / Drug Use:
None
Reviewed By Ambra