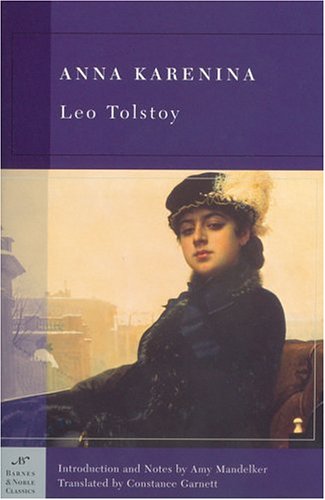 Publisher's Note:
Married to a powerful government minister, Anna Karenina is a beautiful woman who falls deeply in love with a wealthy army officer, the elegant Count Vronsky. Desperate to find truth and meaning in her life, she rashly defies the conventions of Russian society and leaves her husband and son to live with her lover. Condemned and ostracized by her peers and prone to fits of jealousy that alienate Vronsky, Anna finds herself unable to escape an increasingly hopeless situation. Set against this tragic affair is the story of Konstantin Levin, a melancholy landowner whom Tolstoy based largely on himself. While Anna looks for happiness through love, Levin embarks on his own search for spiritual fulfillment through marriage, family, and hard work. Surrounding these two central plot threads are dozens of characters whom Tolstoy seamlessly weaves together, creating a breathtaking tapestry of nineteenth-century Russian society.
This book was sent to Compass Book Ratings for review by Sterling Publishing
Anna Karenina
by Leo Tolstoy
Overall Review:
Anna Karenina is an intense story about love and its consequences. Written by the great Leo Tolstoy, this epic novel follows two central characters -- glamorous Anna Karenina and brooding Konstantin Levin -- on their respective searches for happiness. Though Anna and Levin have individual journeys, their social lives overlap. This overlap produces a vibrant cast of secondary characters. Every character was memorable, multi-dimensional, and provided valuable perspective and insight into the lives of Anna and Levin. Particularly noteworthy was the fact that all were remarkably well-educated. They were readily able to participate in the many detailed discussions within the book about philosophy, religion, politics, moral good, and public welfare. The emotional content in Anna Karenina was astounding. Tolstoy writes scenes with unmistakable depth, drama and passion. Readers will be invested in these characters! Many may find Anna's internal struggle over entering an affair dark and depressing. I actually felt heavy and bogged down while reading these parts. Thankfully Levin's search for true love and happiness is more cheerful and significantly balances the book's mood. Tolstoy also includes a vast array of details about imperial Russian life that will make readers feel as if they were there, too. With unique characters, powerful emotion and fine detail, it is little wonder Anna Karenina is a classic.
Content Analysis:
Profanity/Language: There is a handful of profanities in this novel; most were religious exclamations.
Violence: Instances of violence include a man being crushed by a train, a character shooting himself, and another character throwing herself in front of a train. During a horse race, an animal slips and breaks its back. A childbirth occurs. Shooting animals for game occurs on numerous hunting expeditions. The majority of these violent instances are given with only the briefest of detail.
Sex/Nudity: One of the main story lines of Anna Karenina is infidelity. From the very first page characters are engaging in affairs. While nothing is overly gratuitous, there are several allusions to intercourse and an allusion to abortion and prostitution. A young woman wears a low cut bodice to impress a man. A young girl is examined naked by a doctor.
Mature Subject Matter:
Mature themes include infidelity, God and spirituality, religion, adultery, love, betrayal, death and family.
Alcohol / Drug Use:
A character is also addicted to morphine.
Reviewed By Rachel