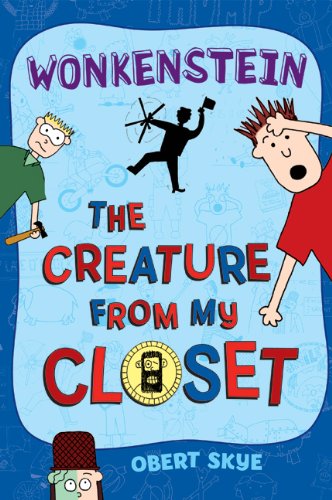 Publisher's Note:
Twelve-year-old underachiever Rob has better things to do than read. His parents give him lots of books but most of them just end up in the messy pile of junk he keeps locked in his closet that once doubled as a makeshift science laboratory. One day, Rob hears weird sounds coming from behind his closet door and discovers a funny little creature that seems to be a cross between two characters from books he's tried to ignore. He names him Wonkenstein. Keeping track of "Wonk" is hard work. But with help from friends and a little off-the-wall magic, Rob and Wonkenstein's crazy adventures set the stage for great laughs . . . and Rob might even read some good books along the way.
Wonkenstein (The Creature From My Closet)
by Obert Skye
Overall Review:
Wonkenstein (The Creature From My Closet) by Obert Skye is a "picture novel" in the style of the Diary of a Wimpy Kid books; this type of book is quite popular with elementary school children with its mixture of hand-sketched drawings and common-language prose. As most of the books in this category, it features middle school-aged characters, but it targets an elementary school-aged reading audience.
The plot was thin and inane--even for this type of book. The underachieving protagonist was neither compelling nor charming and the supporting characters were undeveloped and irrelevant. Although this type of book is never written to be high art, this book felt pointless. However, some young readers may find the drawings entertaining and this book may appeal to those reluctant readers that need some visual interest to coax them into reading a novel.
Content Analysis:
Profanity/Language: None
Violence/Gore: One picture (hypothetical) of a dead character with a knife in leg and an arrow in heart; report of minor injuries.
Sex/Nudity: None
Mature Subject Matter:
Trespassing
Alcohol / Drug Use:
None
Reviewed By Cindy