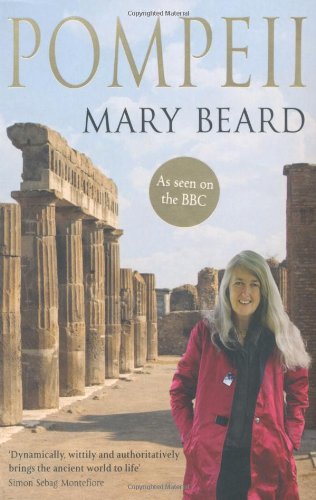 Publisher's Note:
Mary Beard is a professor of classics at Newnham College, Cambridge, and the classics editor of the TLS. Her books include the acclaimed The Roman Triumph and The Parthenon (in the Wonders of the World series of which she is general editor).
Pompeii: The Life of a Roman Town
by Mary Beard
Overall Review:
Pompeii - 'a city frozen in time', that's what I learned at school and saw no reason to question. That is until I picked up Pompeii: The Life of a Roman Town by renowned Cambridge historian and 'Britain's best classicist' Mary Beard which showed me there was so much more to this fascinating story.
Mary Beard has been researching Pompeii since working at the excavations as a student and this depth of knowledge clearly shows. This book is a very detailed study of life in Pompeii before the eruption. Each chapter explores a different facet of society from earning a living to fun and games. Roman politics, eating and drinking and relationships are all explored in an engaging and interesting style. The brilliance of this book lies not just in the details but also in its readability and accessibility for those without a background in history.
This year Mary Beard was awarded an OBE for her services to classical scholarship and this book shows what a truly valuable asset she is to Britain and to anyone interested in history or classics.
Content Analysis:
Profanity/Language: 1 mild obscenity, 6 scatological terms, 1 anatomical term, 6 F-Word derivatives. (All profanities are translations of ancient graffiti from the walls of Pompeii.)
Violence/Gore: Gladiator games are described where participants die; deaths from the eruption are discussed; murders from Classical stories are mentioned.
Sex/Nudity: Paintings and sculptures of naked individuals and adults engaging in various sexual activities are described and some are also illustrated; prostitution is discussed in detail.
Mature Subject Matter:
Death, war, slavery, marital infidelity, gambling, murder, prostitution, homosexuality.
Alcohol / Drug Use:
Adults are described as drinking wine.
Reviewed By Ailsa