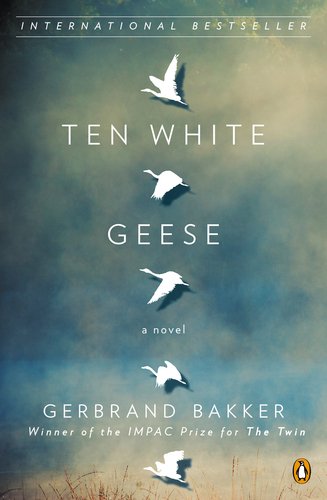 Publisher's Note:
Have you ever wanted to disappear and make a new life for yourself where no one knows your name?

Ten White Geese is the eagerly anticipated, internationally bestselling new novel by the winner of the world's richest literary prize for a single work of fiction.

A woman rents a remote farm in rural Wales. She says her name is Emilie. An Emily Dickinson scholar, she has fled Amsterdam, having just confessed to an affair. On the farm she finds ten geese. One by one they disappear. Who is this woman? Will her husband manage to find her? The young man who stays the night: why won't he leave? And the vanishing geese?
Set against a stark and pristine landscape, and with a seductive blend of solace and menace, this novel of stealth intrigue summons from a woman's silent longing fugitive moments of profound beauty and compassion.
This book was sent to Compass Book Ratings for review by Penguin Group
Ten White Geese
by Gerbrand Bakker
Overall Review:
Ten White Geese by Dutch novelist Gerbrand Bakker is set deep in the picturesque Welsh countryside in the shadow of Mount Snowdon. A woman arrives from Europe to rent the house of a recently deceased old woman, a house that comes with the responsibility of looking after ten geese and a pervading 'old lady smell'. Her arrival sends ripples throughout the local area--who is she, what is she doing, and why is she here? Indeed these are questions that the reader is also faced with as her story slowly unravels. Further questions are added, such as who is the young boy who leaps over the garden wall and then doesn't want to leave?
This novel is imbued with a strong sense of place and the countryside is very vividly imagined. The characters are interesting and leave enough to the imagination for the reader to create their own images and ideas.
Content Analysis:
Profanity/Language: 3 religious exclamations; 1 mild obscenity; 6 derogatory names; 2 F-word derivatives.
Violence/Gore: A character suffers a bad animal bite; two fairly creepy scenes; attempted suicide; suicide.
Sex/Nudity: A few non-sexual descriptions of nudity; sexual references; two incidences of characters touching areas normally covered by a bathing suit; nudity with sexual innuendo; a characters has an extra marital affair; one reported incidence of sexual activity between adults, a further sexual incident with some more detail.
Mature Subject Matter:
Death, terminal illness, marriage infidelity, separation, suicide.
Alcohol / Drug Use:
Characters drink wine and smoke throughout the book.
Reviewed By Ailsa