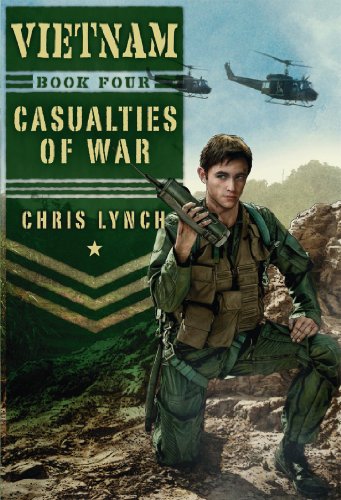 Publisher's Note:
Morris, Rudi, Ivan, and Beck are best friends for life. So when one of the teens is drafted into the Vietnam War, the others sign up, too. Although they each serve in a different branch, they are fighting the war together -- and they promise to do all they can to come home together.

Of the four, it's Beck that has the most to lose. He's the smart one of the bunch, and he could be -- SHOULD be -- going to college. His parents certainly think so. But he has a pact to honor, and so Beck enlists in the US Air Force.

As their tours of duty near completion and the war itself spirals further out of control, the four best friends are at last on a collision course. Will they all survive long enough to be reunited?
This book was sent to Compass Book Ratings for review by Scholastic Press (A Scholastic Imprint)
Vietnam #4: Casualties of War
by Chris Lynch
Overall Review:
Vietnam #4: Casualties of War continues the story of four childhood friends serving in the Vietnam War. Having not read the previous three books in the series, I was nervous about understanding the plot. Luckily Lynch provides a summary in the first few pages so I was able to slip easily into the characters' story.
I was impressed by Chris Lynch's take on warfare. This is not a video game re-creation, with bullets flying and bodies dropping. Lynch provides a touching story with historical insight that emphasizes friendship, loyalty and a more moral side of war. Each of the four books is narrated by a different boy, and each boy serves in a separate branch of the military. Casualties is told from intellectual Beck's point of view and a great deal of the book explains what a soldier in the Air Force would do on a day-to-day basis. I would recommend this series for teenage boys or anyone who likes action and adventure!
Content Analysis:
Profanity/Language: None
Violence/Gore: Implied occurrence of violence as bombs can be heard; reports of war and violence in other cities; a character's plane is shot several times by enemy gunfire; a plane crash takes the lives of 2 characters (non-detailed); a missile strikes a pilot (non-detailed); two characters are shot with blood and gore; a picture is passed around featuring a dead soldier.
Sex/Nudity: None
Mature Subject Matter:
War, murder, death of a friend
Alcohol / Drug Use:
None
Reviewed By Rachel