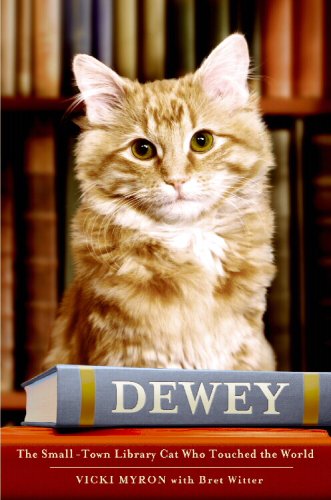 Publisher's Note:
How much of an impact can an animal have? How many lives can one cat touch? How is it possible for an abandoned kitten to transform a small library, save a classic American town, and eventually become famous around the world? You can't even begin to answer those questions until you hear the charming story of Dewey Readmore Books, the beloved library cat of Spencer, Iowa.

Dewey's story starts in the worst possible way. Only a few weeks old, on the coldest night of the year, he was stuffed into the returned book slot at the Spencer Public Library. He was found the next morning by library director, Vicki Myron, a single mother who had survived the loss of her family farm, a breast cancer scare, and an alcoholic husband. Dewey won her heart, and the hearts of the staff, by pulling himself up and hobbling on frostbitten feet to nudge each of them in a gesture of thanks and love. For the next nineteen years, he never stopped charming the people of Spencer with his enthusiasm, warmth, humility, (for a cat) and, above all, his sixth sense about who needed him most.

As his fame grew from town to town, then state to state, and finally, amazingly, worldwide, Dewey became more than just a friend; he became a source of pride for an extraordinary Heartland farming town pulling its way slowly back from the greatest crisis in its long history.
Dewey: The Small-Town Library Cat Who Touched the World
by Vicki Myron
Overall Review:
Dewey: The Small-Town Library Cat Who Touched the World by Vick Myron is a New York Times bestseller that tugs at your heartstrings. At first glance it may appear to be only about the rather singular life of a cat who, as a kitten, was pushed through the slot of a library drop box on a cold January night, but if you delve into its pages you will find it is about much more than that.
The writing in this book is such that Dewey's personality jumps off the page and draws the reader in. I also enjoyed the pictures of Dewey that accompanied each chapter heading. They helped my imagination along as I tried to picture a sweet, but quirky cat roaming around a small town library and making friends as he goes. The life of Dewey Readmore Books was intertwined with the lives of many in Spencer, Iowa and Vicki Myron explores some of their stories, capturing much of the struggle, pain, and joy that make up life in America's Heartland. Myron's ability to seamlessly mix stories from the past and present together makes the book both entertaining and informative. She includes some of Iowa's history as well as some of her own history which gives the book a depth I did not expect to find among the funny and sometimes touching stories of the world's most famous library cat.
If you're a history buff, you may want to pick this one up. If you are a lover of libraries, I can enthusiastically suggest this for your to-read list. But if you are a cat lover, I would say this is a must read.
Content Analysis:
Profanity/Language: None
Violence/Gore: A suicide is mentioned but not in great detail.
Sex/Nudity: None
Mature Subject Matter:
Terminal illness; death of a family member; suicide; divorce.
Alcohol / Drug Use:
Beer and alcohol in general mentioned in reference to the activities of an alcoholic adult.
Reviewed By Ambra